Woodwind Faculty Recital
Redfern Arts Center
Wednesday, · -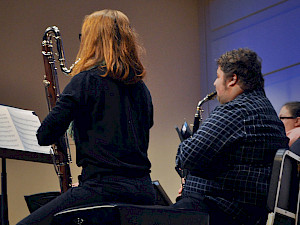 The Keene State College Woodwind Faculty presents an exciting and eclectic recital. The performance features works by Philip Glass, Pierre Sancan, Robert Muczynksi, Kenji Bunch, Catherine McMichael, and Walter Hartley.
Performers include Keene State Faculty members Robin Matathias, Stephanie Jenkins, Christina Wright-Ivanova, and Craig Sylvern, plus guest artist James Pecsok.
The evening includes solo works for flute, clarinet, and tenor saxophone, an exciting duo for clarinet and flute, and a final trio for flute, clarinet, and alto saxophone.
At Keene State College, woodwinds are represented by the Flute Ensemble, Clarinet Choir, Saxophone Ensemble, and Woodwind Quintet (flute, oboe, clarinet, bassoon, and French horn).
Players in the Brass Ensemble perform on trumpet, French horn, trombone, euphonium, and tuba. These instruments are also integral to the Concert Band, Orchestra, and Jazz Band.
This is a wonderful opportunity to see Keene State professors in action! Tickets are $5 for students and seniors, $10 for adults.
Please contact the Box Office at (603) 358-2168 for more information.
This event is part of the RAC Music Department calendar and is open to the public.
Contact:
Redfern Box Office
603-358-2168
To request accommodations for a disability, please contact the coordinator at least two weeks prior to the event.