Jazz Combos
Redfern Arts Center
Friday, · -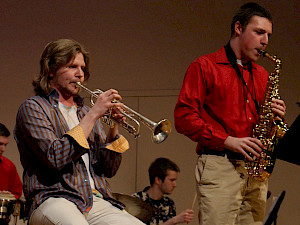 The wildly popular KSC Jazz Combos will be in full swing for Spring!
The concert features performances by combinations of KSC jazz instrumentalists and vocalists, including Keene State students who are majoring in music, as well as other programs at the College.
Performers will present improvised and rehearsed arrangements of songs from the classic and modern jazz idiom.
Tickets are $5 for students and seniors, $10 for adults. Please contact the Box Office at (603) 358-2168 for more information.
This event is part of the RAC Music Department calendar and is open to the public.
Contact:
Redfern Box Office
603-358-2168
To request accommodations for a disability, please contact the coordinator at least two weeks prior to the event.