Jazz Ensemble
Redfern Arts Center
Wednesday, · -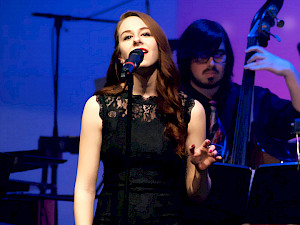 The Redfern will swing with style when the Keene State College Music Department presents the Spring performance of its large Jazz Ensemble.
Led by director Steve Cady, this traditional 'big band' style group takes the stage, performing music from the broad repertoire of compositions written for this setting.
KSC Jazz Ensemble enjoys exploring both classic and modern styles, and this year's concert will highlight Count Basie's Shiny Stockings, Pat Metheny's Beat 70, and a unique classical/jazz arrangement by Les Hooper titled Bach's Lunch.
Join us Wednesday, May 1, 2019 at 7:30 pm in the Main Theater for lively night of crowd-pleasing jazz! Tickets are $5 for students and seniors, $10 for adults. Please contact the Box Office at (603) 358-2168 for more information.
This event is part of the RAC Music Department calendar and is open to the public.
Contact:
Redfern Box Office
603-358-2168
To request accommodations for a disability, please contact the coordinator at least two weeks prior to the event.