Water, Ice, Rain, and Life-Changing Moments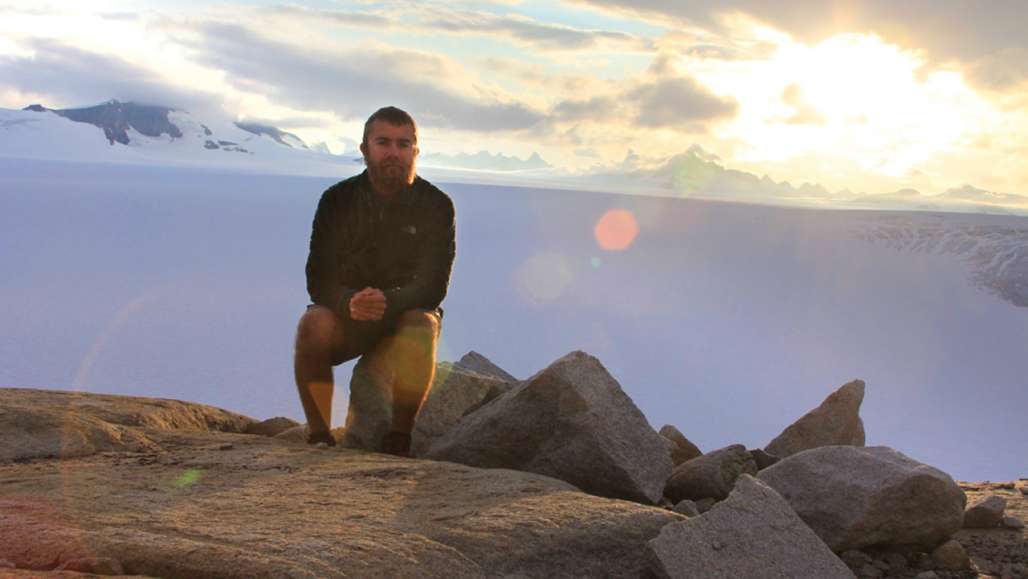 When Michael Staron '14 was accepted into the Juneau Icefield Research Program toward the end of his senior year at Keene State, he was enthusiastic about the adventures to come. He could have never predicted, though, what a positive and life-changing experience he was going to have.
"So few people ever take a step out of their comfort zone," Staron writes, "and without doing that you can never truly be sure of what you're capable of. "
Staron spent the summer after his graduation on the Taku Glacier in southeast Alaska. He was involved in observing the rate at which snow was transforming into glacial ice in areas of high stress – confined valleys – as compared to open plains. With the methods Staron and his colleagues were using, they were able to calculate the densities of snow throughout a vertical column of the glacier and gain a better understanding of the glacier as a whole.
Many of the glaciers in southeast Alaska are melting at an alarming rate, which means that this type of work is vital.
At the beginning of the summer, Staron and his teammates collected the equipment they needed and hiked from a Home Depot parking lot in Juneau, Alaska, to the glacier where they would be spending the next two months. After an all-day trek through dense, temperate rainforests, rocky passes, and a lot of snow, they made it safely to their site. The rest of the resources they would need to survive would be delivered by helicopter over the rest of their stay.
"It certainly was not warm living on the icefield, mainly due to the fact that the temperature never really got above 55 degrees the entire summer; plus, it rained about 75 percent of the days that we were there," Staron remembers. "Rain gear was worn basically every day on the icefield, as it was generally always raining – with the exception of a few glorious bluebird days."
Staron was joined by 32 other students and visiting scientists and safety staff. The majority of his summer was spent processing data at established base camps, complete with outhouses, bunkhouses, and cook-shacks. Staron and his colleagues were lucky enough to present their findings to the Geological Society of America at a national conference in Vancouver, British Columbia.
Staron – a geology major – is now guiding clients up Mount St. Helens in Washington. He teaches them about the eruptive history, geology, and the natural environment surrounding the mountain before and after its historic eruption in 1980. One year later, he sees his summer on the glacier as a key life experience.
"There were more life-changing moments on the icefield than there have been in my 23 years of existence," Staron writes. "I realized what I was truly capable of."
By Scott Steere '16
Related Stories