Music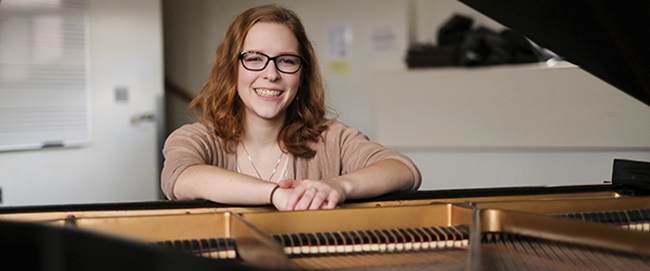 KSC's versatile Music program includes Bachelor of Music degrees in Music Education, Performance, Composition, and Music Technology, as well as a Bachelor of Arts in Music option. Music majors participate in various ensembles, perform in master classes with guest artists, and are active in their professional organizations. Ensemble participation by all members of the campus community is encouraged. More about Program Overview
Student Links Portal
---
There's a lot to know about the KSC Music department. For a quick glimpse, check out our Quick Facts page. More about Quick Facts
---
We are pleased to share the exciting news of music education students' placement in teaching positions – 100 percent of music education alumni have placements in teaching or performing.
We offer four Bachelor of Music options and one Bachelor of Arts option, plus an option to minor in music:
---
Whether you want to learn about the history of music, study music theory, perfect your classical guitar technique, sing in the chorus, or create an independent project, you'll find what you're looking for – and then some! – in our course listings. More about Courses
---
Music students at Keene State have opportunities to work in local schools, to conduct performances of their own compositions, to study with masters, to sing and play with a variety of ensembles in a variety of styles, and more. More about Student Profiles
---
Keene State music graduates go on to careers in teaching, performing, and composing. "My career has gone beyond what I could have hoped for" says Rob Westerberg '87, an award winning high school choral director. "I feel very blessed for a lot of the people and circumstances in my life, not the least of which is Keene State's music program." More about Alumni Profiles
---
In addition to College and outside scholarships awarded through Student Financial Services, the Department of Music makes annual awards. More about Scholarships
---
All members of the Keene State community are welcome to participate in the Department of Music's performing groups, and music majors and minors are required to perform in large and small ensembles. The options for joining in the music are numerous, from Opera Workshop and Concert Choir to Percussion, Piano, Fiddle, and String ensembles. More about Ensembles
---
If you plan to apply to Keene State as a music major or minor, you must to pass an audition that involves singing or playing a musical instrument. Specific requirements vary, depending on your instrument. More about Audition Information
---
"I would like students to take away a love of music and a continuing curiosity about how best to perform it, study it, and rehearse, and to explore all the music that is out there to learn."
– Jose Lezcano 
Faculty in the Music Department are accomplished professional musicians. Most perform regularly on campus, throughout the region, state, and country, and internationally. More about Department Faculty
---
---
Wise up!
Contact Admissions
Request information
Music Department (Arts & Humanities)
Deborah Ford
Administrative Assistant
603-358-2177
Admissions Office
800-KSC-1909
229 Main Street
Keene, New Hampshire 03435