Health Science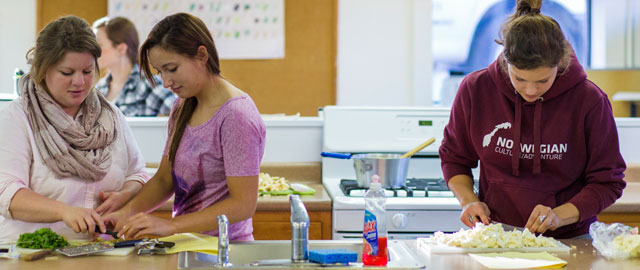 How to attain and promote health – in individuals and communities, bodies and behavior – is not only an essential question of our time, but a wide-ranging course of study. Students may focus on one of several areas, encompassing addictions, health promotion (community health or behavior & health), or nutrition.
---
Program Overview
If you're interested in promoting health on an individual and community level, Health Science may be the major for you.
The Health Science Department provides a dynamic and academically rigorous environment in which students investigate, learn, and apply knowledge through service learning, civic engagement and scholarship.
With a curriculum that positions students for the growing demand for health professionals, this interdisciplinary program is comprised of three options: Health Promotion, Nutrition, and Addictions. More about Program Overview
---
Would you like a career centered on working to change policies, environments, attitudes, and behaviors that affect health? Or are you interested in pursuing advanced study in nursing, physician assistant, physical therapy, occupational therapy, and other health-related professions? Consider the Health Promotion option. Students who choose this option specialize in either community health or behavior and health. More about Health Promotion
---
Are you interested in the ways the food we eat impacts our health? Check out the Nutrition option. Health Science students who focus on nutrition prepare for careers in dietetics, food service management, community nutrition, and health promotion. More about Nutrition
---
If you want to prevent substance abuse or work with people who struggle with drug and alcohol problems, you'll want to take a look at the Addictions option. The program offers both a theoretical understanding of substance abuse and practical methods of counseling and treatment. More about Addictions
---
Our Students
"I had the chance to work for a coconut oil company in Nicaragua. It has created an entirely new economy in a part of the country that barely has access to electricity."
- Kelsey Bumsted
In addition to classroom work, Keene State health science majors are likely to find themselves getting hands-on experience through practicum courses, internships, research, and service-learning opportunities.
---
Our Graduates
Health science students have gone on to master's and PhD programs and to careers as registered dietitians, substance abuse counselors, dining service managers, among other options.
---
"Every day in the classroom is exciting!"
– Margaret Henning, Assistant Professor
Faculty members in the Health Science Department have real-life experience as nutritionists, substance abuse counselors, and researchers, have won grants for research and awards for community service, and are interested in alternative healing and civic engagement. More about Our Faculty
---
---
Contact Health Science
Wise up!
Contact Admissions
Request information
Angela Poirier
Administrative Assistant
603-358-2854
Admissions Office
800-KSC-1909
229 Main Street
Keene, New Hampshire 03435