English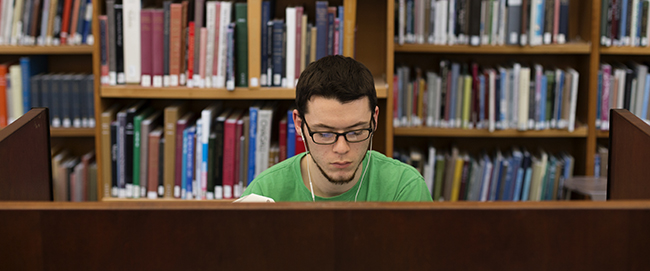 The written word in all its glory and complexity is the world of the student of English. Students may focus on either literature or writing, and those who love European culture before 1600 can explore KSC's new Medieval and Early Modern Studies program.
---
What ends up on the page is only part of the story. In English, students study the past, present, and future of the written word, from Augustine to Chaucer, from Shakespeare to Austen, from Dostoevsky to Baldwin, from Achebe to Erdrich. Literature raises important questions about humanity, justice, and morality, and, as a result, has the unique power of both reflecting and transforming the place, time, and culture in which it was created. In short: literature matters, and it always will. More about Program Overview
---
Over a third of our graduates receive a dual degree in English and Secondary Education, and another third are enrolled in the Elementary Education program. Many students choose a minor in addition to the major; we offer a thriving writing minor as well as a new Medieval and Early Modern Studies minor.
---
Faculty in the English department are literary scholars, creative writers, and specialists in rhetoric and composition. In addition to teaching, faculty in English serve as mentors and advisors, encouraging majors to apply for awards and scholarships, to join our local chapter of the English Honor society, to study abroad, or to enroll in internships. More about Department Faculty
---
The Medieval and Early Modern Studies program encourages students to celebrate the diversity and richness of the Middle Ages and the early modern period while promoting scholarship for both faculty and students. More about Medieval and Early Modern Studies
---
What do students do with a major in English? Our students have taken their rich analytical and creative problem-solving skills, their ability to write well, and their enthusiasm for language arts to further study at impressive graduate programs or to jobs as writers, editiors, teachers, journalists, lawyers, business people, and a wealth of other professions where their ability to write, think, and communicate well are critical assets. They've shown that their degree in English provides an intellectual background and readily transferable skills for a wide range of personal and professional endeavors. More about Life after KSC: What Our Grads Are Doing
What made the biggest difference in my career? 'Learning to write, communicate, and process information.'
After 36 years in the television industry, I am forever grateful for the education I received at Keene State. As co-founder and Executive Chairman of Encompass Digital Media, a leader in worldwide video distribution, the communication skills I learned at Keene have been the most important resource in my business career. Encompass has facilities in Atlanta, New York, Stamford, Minneapolis, L.A., Singapore, London, and Buenos Aires. We originate over 850 24/7 television channels on a worldwide basis including 15 of the top 25 entertainment networks globally. We process and deliver over 25,000 hours of media daily (sports, news, digital media, etc.). When I am asked by one of our 1200 employees what made the biggest difference in my career, I reply: 'Learning to write, communicate, and process information.' I learned these disciplines at Keene State. It is great to see Keene State thriving.
–
Bill Tillson
1974,
English
---
---
Wise up!
Contact Admissions
Request information
English (Arts & Humanities)
Dr. Brinda Charry
Professor

Admissions Office
800-KSC-1909
229 Main Street
Keene, New Hampshire 03435