Computer Science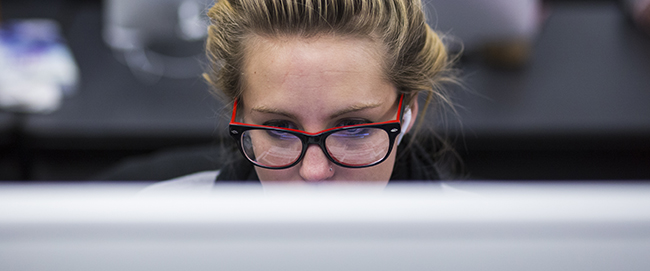 In Computer Science,
we solve real
    problems
for real people.
The Bachelor of Science in Computer Science provides students with a thorough grounding in a set of core courses in computer science (CS) and other related areas, followed by the opportunity to hone their CS education in certain areas of specialization.  The mandatory core covers essential courses in Programming, Web Technology, Computer Architecture, Mathematics, Data Structures & Algorithms, and Management. The specializations cover dominant areas of CS such as Software Engineering, Computer Networking, Web Development, Information Systems, and Computational Mathematics. 
The anticipated end result is a set of graduates who are adequately prepared for their chosen vocation, be it graduate school, or employment.  More about Program Overview
---
Keene State College CS students and graduates are using technology to make a difference. Networking with peers, working on campus with the latest technology to enhance the educational experience, or out in the "real world" moving computer science forward, those involved with the CS department, then and now, have success stories to share. More about Students and Alumni
---
"The encouragement and assistance I've received from my professors in pursuing my research interests has been paramount in the graduate school application process."
– Dan Garant '13 
The CS Department is supported by a committed, competent, experienced team consisting of four full-time faculty members and a rich cadre of adjunct faculty members. Culled from academia and industry, each has their own specializations. And because of this, we foster and promote many partnerships with other disciplines, as well as with area businesses and community organizations. More about Department Faculty
---
---
Wise up!
Contact Admissions
Request information
Computer Science (Sciences)
Emma Wilson
Administrative Assistant
603-358-2540
Admissions Office
800-KSC-1909
229 Main Street
Keene, New Hampshire 03435