Anthropology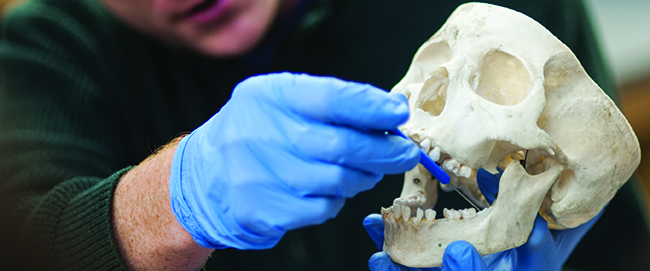 Anthropology – the scientific study of human beings – investigates the biological, social, and cultural aspects of our species over time, patterns of human behavior, and the details of everyday life across cultures. Both cultural and physical anthropology courses are required.
---
Program Overview
The Anthropology Program introduces students to the comparative and holistic study of people. It explores the biological, social, and cultural aspects of our species in the past, present, and future. Anthropology attempts to integrate knowledge of human beings and their activities at the highest and most inclusive level. Anthropologists study the patterning of human behaviors, as well as the conditions under which they arise, persist, or disappear, in the belief that the knowledge gained from this perspective may be applied to the solution of problems of everyday life in different cultures.
---
Students
Johanna DeBari '14
"I have always been fascinated by other cultures, and actually wanted to major in linguistics at one point. I was so drawn to Keene State, though, that I chose the anthropology major as being a very close substitute for a major in linguistics, and I am glad that I made that decision. For example, in my World Prehistory class, I completed assignments that gave me the skills to better retain information as well as read materials more efficiently and quickly. I was also assigned to focus on the Yoruba, an African civilization, which I had previously not known about – I was able to learn a wealth of information about an entirely new and fresh subject. Having the exposure to this information was extremely stimulating. The Anthropology Program helped me gain skills that will make me a better potential graduate student as well as a more effective worker. I would recommend the program to any incoming freshman even remotely interested in the subject." Johanna graduated from Keene State, and attended the University of Connecticut, to earn a master's degree in international studies with a concentration in human rights."
Sara Voorhis '13
Sara graduated with a biology major and anthropology minor. She is using her degree to work as a contract archaeologist. In that role, she ensures that cultural resources – early burial grounds, for instance – are not damaged when the ground is dug up to install pipelines, powerlines, and other materials.
---
Alumni
Jessica Goulet, owner of Nonna Scopa
"Since graduating from Keene State College in 2008, I have earned graduate credits, I work at a successful pediatric practice and I have started my own catering business, Nonna Scopa. I find that my education at Keene State in the Anthropology Program helps me to look at situations in different ways, communicate with people well and understand the way co-workers and patients perceive things. While at Keene State, I worked as a student instructor, which helped me learn how to communicate with different types of learners, and that helps me today when I train people at work. I would absolutely recommend Keene State's Anthropology Program to students looking for an education that is useful in the workplace."
---
---
Contact Anthroplogy
Wise up!
Contact Admissions
Request information