Student Accounts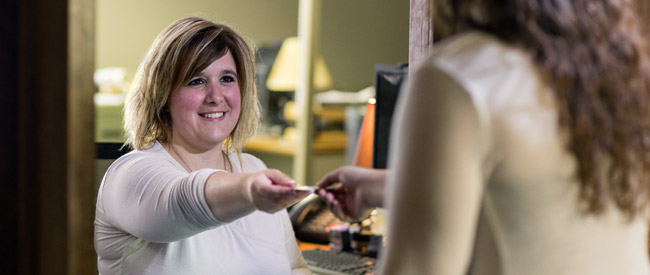 The Student Accounts Office administers, bills, and collects student charges and provides revenue-related services for the campus. We manage repayment of certain educational loans. Because Keene State College is committed to helping every student be successful in their academic endeavor, the Student Accounts Office works to deliver the best possible customer service, accurate information, and financial options for our students and families. We look forward to assisting you.
We pride ourselves on our excellent customer service and the quality of our information about fiscal responsibility while complying with all applicable standards. Student Accounts applies training, best practices, and technology to meet current and future needs. In addition, we are an active member of the campus community.
If you need to visit our office, we're in the Elliot Center, Room 102, Mondays from 9 a.m.–4:30 p.m. and Tuesday–Friday from 8 a.m.–4:30 p.m.
---
| 2015-16 Charges | Resident of NH | Out-of-State |
| --- | --- | --- |
| Tuition (full-time) | $10,700 | $18,880 |
| Room (multiple) | $6,372 | $6,372 |
| Board (platinum plan) | $3,340 | $3,340 |
| Mandatory Fees | $2,528 | $2,528 |
| Total | $22,940 | $31,120 |
Tuition and Fee rates are approved by the University System of New Hampshire Board of Trustees and are subject to change at any time.
Pre-licensure nursing students pay a $500 tuition differential in each of their four clinical semesters.
Full-time matriculated enrollment for undergraduate students is defined as a course load of 12 to 20 credits. Students enrolled in 21 or more credits will pay a per credit overload charge determined by their residency status.
FY16 In-state tuition rates have been deferred until clarification on the FY16 state operating appropriation is available.
And there's information here on discretionary costs, and the costs if you choose to take classes through Continuing Ed, graduate school, or the summer semester. More about Tuition & Fees
---
Keene State College bills electronically, posting electronic billing statements to QuikPAY, a web-based service that provides view, print, and payment options.
Semester charges for tuition, fees, room, and board must be paid in advance.
Semester Payment Deadlines:


Fall - Second Friday in August
Spring - Third Friday in December
Summer - Last Friday in April
---
Can you get a refund if you have a credit balance; withdraw from college or from a class? What if there's a financial hold on your account? What tax information is available related to my educational expenses? Look here for the answers to these and other frequently asked questions. More about Resources & Forms
---
Keene State College
229 Main Street
Keene, NH 03435-2603
800-572-1909 * 603-358-2263
studentaccounts@keene.edu
Fax: 603-358-2163