"I love living close to the heart of campus."
Liselle Milazzo, History major, history tutor, member of Circle K, Hall Council, Art Collective, and G2 Gamers Club. Studied abroad through Semester at Sea.
Keene State is a place for students to live and learn together – an environment designed to foster conversation, collaboration, and the critical thinking and decision-making that result from thorough and honest exchanges between students and faculty. Education at Keene State doesn't happen only in the classroom – often it is extra-curricular experiences that set a student on the path to a rewarding discovery or occupation.
The campus itself – called "a hidden jewel of higher education" by a recent visitor – is the setting for that process of discovery. And it's a beautiful campus by any standard: 170 landscaped acres, ivy-covered brick buildings, science labs and dance studios and Student Center humming with activity and purpose. More than beauty draws 5,000 students here, however – it's the opportunity to develop their individual talents, harness their collective energy, and make a difference in the world.
---
Pondside III, a residence hall offering living/learning communities, where groups of students with shared interests choose to live together and have extra time to focus on their passions
All full-time freshmen and sophomores are required to live on campus. Why? Because being here 24/7 is the best way to connect to the college community, the best way to grow as a student and as an adult. And it's a great way to make friends.
Residence halls feature suite-style arrangements, living/learning communities, the Residence Hall Council to advocate for students and answer questions, and a well-trained Residential Life staff whose innovative, student-led programs won "School of the Year" recognition for KSC in 2011.
Students can opt for meal plans offering 12 or 19 meals per week. Meals are served in the bright and spacious Zorn Dining Commons in the heart of campus, as well as in the Hoot 'n' Scoot and the Night Owl Café. During the year, the Global Chefs program brings culinary stars to campus to serve ethnic and regional specialties.
---
Habitat for Humanity's Global Village trip to Rabinal, Guatemala
Students at Keene State believe in getting involved. Are you ready to step up?
Student energy by the megawatt goes into more than 100 student-run organizations on campus. Students set their own agendas, work within a budget, recruit their friends, and accomplish amazing things. The world of athletics – 18 varsity sports, plus club sports and intramurals – creates lifelong Owl loyalists among athletes and fans. More about Student Involvement
---
By the Numbers
3,228

Participants in intramural sports, 2011-12

9,537

Participants in group fitness

218

Participants in club sports (8 clubs)

302

Participants in special events (Indoor Triathlon, Gauntlet Fitness challenge, and Pumpkin 5K Fun Run/Walk)
The Rec Center/Spaulding Gym is a state-of-the-art hub for all students, offering:
3 full-size courts (for basketball, volleyball, floor hockey, indoor soccer, and other court games
A three-lane, elevated jogging/walking track
A well-equipped fitness center and weight room
Zumba, yoga, aerobics, and other classes
A full schedule of club and intramural sports, from Brazilian jujitsu to Ultimate Frisbee, open to all
---
The KSC Parents Association sponsors events throughout the year for parents and guardians to connect and network with each other and with students. Parent/Family Weekend is a highlight of the fall, a wonderful time to visit with your student, meet campus leaders, and have fun together. The Parent/Family Newsletter, published in spring and fall, offers useful information on student success, tips on job prospects, and information on upcoming events. More about Parent & Family Activities
---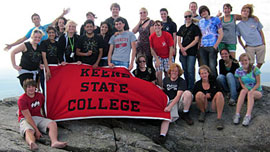 Student Services includes the Global Education Office, which helps students arrange study-abroad semesters and sponsors international students
Student Services encompasses the administrative offices of the College that directly support all KSC students and help solve day-to-day problems. The Dean of Students Office pays special attention to first-year students and helps familiarize them with College expectations and standards.The Elliot Center houses many of the student-support offices. More about Student Services
Academic Support
---
Contact Student Affairs
Student Affairs Office
Vice-President for Student Affairs, 603-358-2108
229 Main Street
Keene, New Hampshire 03435