I chose KSC because I loved the close-knit feeling of the campus.
Upcoming Events
February 09, 2015 (Monday)
February 11, 2015 (Wednesday)
February 20, 2015 (Friday)
Trio Day College Fair
9:45 a.m. - 12:00 p.m. • Portland Marriott at Sable Oaks, 200 Sable Oaks Drive, South Portland, ME 04106, United States
This is what Keene State has to offer:
A four-year residential college focused on you, the undergraduate.
A school large enough to give you room to fly; small enough so you can't disappear.
A liberal arts education that prepares you for life: your next move, and how to get there.
A good value. You spend four years here, committed to learning. We equip you for the next 40. That's a promise.
---
Whatever you plan for your future, Keene State can give you the knowledge and skills to put you on the path to success. Whether you see yourself as an artist, a teacher, a nurse, a scientist, a physical trainer, a business leader, a designer for high-tech manufacturing – let your imagination be your guide – we offer over 40 areas of study to get you where you want to go. More about Majors & Degrees
Check out our list of programs – plenty of wise choices await.
Can't decide?
If you want to graduate in four years, you will need to commit to a major as soon as possible. During your first academic year, while you explore the curriculum, make friends with an advisor in the Academic and Career Center in Elliot Hall.
---
"I chose Keene State primarily for the relatively low cost of the school, but the beautiful campus didn't hurt, either! Small classes and the ability to connect with professors from the start give KSC the upper hand in education."
Brooke Wheeler, Environmental Studies major
College is not cheap, but we firmly believe we provide an exceptional value.
| 2014-15 Charges | Resident of NH | Out-of-State |
| --- | --- | --- |
| Tuition (full-time) | $10,410 | $18,330 |
| Room (multiple) | $6,126 | $6,126 |
| Board (platinum plan) | $3,242 | $3,242 |
| Mandatory Fees | $2,454 | $2,454 |
| Total | $22,232 | $30,152 |
Tuition and Fee rates are approved by the University System of New Hampshire Board of Trustees and are subject to change at any time.
Please note: Pre-licensure nursing students pay a $500 tuition differential in each of their four clinical semesters.
---
In 2013
90% of KSC Students

receive financial assistance.

$13 million

in Institutional Financial Aid awarded by Keene State College

$5.1 million

in Federal scholarships and grants was awarded

$1.5 million

was awarded as Student Work Study employment
More than 90 percent of our students receive financial assistance.
Providing students with workable packages of merit scholarships and grants, loans, and campus jobs is the highest priority of our Financial Aid office. In order to demonstrate financial need, required forms, especially the FAFSA, must be filed on time.
What is a financial aid package?
No two students are alike, but if you are admitted and qualify for financial aid, you will be awarded a package: some combination of scholarships (which do not have to be paid back), loans (which do), and work on campus (which, believe it or not, can be fun, and even educational).
---
Attend an overview with an admissions counselor and tour campus with our tour guides. The program time is approximately 1½ to 2 hours. Group tours and classroom visits can also be arranged.
Schedule a Visit
Request a Group Tour
---
6,887

Number of students who applied to Keene State in 2011

1,262

Number of first-year students enrolled
Most Keene State students apply directly from high school, although we also welcome older students, transfer students, and anyone interested in learning. If you are a high school student, we pay a lot of attention to your performance in college preparatory courses, a great predictor of college success.
High school coursework must include:
| Discipline | Units |
| --- | --- |
| English | 4 units |
| Mathematics | 3 units* |
| Sciences | 3 units |
| Social Studies | 2 units |
| Academic electives | 2 units |
*at a minimum, Algebra I, Algebra II, and Geometry
To apply, complete and submit the Common Application form and KSC Supplement at commonapp.org (preferred) or by mail. The application fee is $50.
---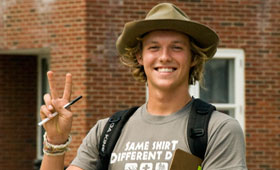 Congratulations on being admitted to Keene State College! What's next?
---
"My best advice is to get involved on campus right away. It will teach you skills in teamwork and communication."
Alyssa Gilhooly, Quantitative Business Analysis (individualized major), was an RA and helped KSC win "School of the Year" for its residential program in 2011.
What's Orientation? It's a way to get acquainted. With your roommate, with the campus, with your class.
Orientation for all freshmen starts with Move-In Day, set for Wed., Aug. 21, 2013. That night, all new students attend 1,355 Nights, a students-only gathering on Fiske Quad. Upperclassmen share their best advice and wisdom.
The next day begins with Clap-In and New Student Convocation. You'll walk down Appian Way with your classmates while staff and faculty applaud. We'll proudly clap you back out at Commencement in four years. More about New Student Orientation
Get Started
Transfer Students
---
As a parent or guardian of a Keene State student, you are part of a wonderful community and we invite you to become involved with campus life. We offer Parent Information Sessions as well as a Resource Guide for Parents. More about Become a Keene State Parent
---
---
Is Keene State
right for you?
Let's find out.
Admissions Office
1-800-KSC-1909
229 Main Street
Keene, New Hampshire 03435
Request information
Questions?