Taking the time to study away was one of the best decisions I made.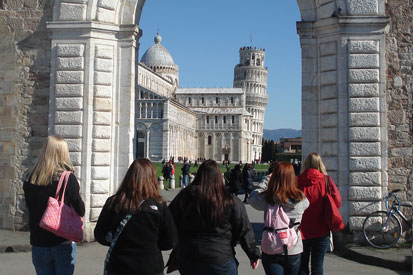 Study Away
With study away you'll learn more about the world while making progress toward your degree. We invite students to participate in the programs offered through KSC and to become more fully engaged global citizens.The world can truly be your classroom!
Drop-In Study Away Advising times: Mon/Tues/Thur/Fri: 9-12 and 1-4; Wed 1-4.
Contact Study Away advisors to set up a personalized appointment.
Tim Francis (tfrancis@keene.edu) advises for: International Programs: Australia, Chile, Ecuador, England, Ireland, New Zealand, Scotland, and Spain
Domestic Program: National Student Exchange (USA and Canada)
Laura Zuelch (laura.zuelch@keene.edu) advises for: International Programs: Botswana, France, Germany, India, Italy, Japan, Morocco, Poland, Rwanda, and South Africa
Domestic Program: The Washington Center
Request Information
Apply Now
---
Where to Study?

Keene State offers study away programs in 25 countries

Financial Fact

KSC students' financial aid can be used to study away

Visitors from Abroad

Every semester, KSC hosts exchange students from our partner universities in the US and internationally
Contact GEO
603-358-2348
geo@keene.edu
Elliot Center, third floor
229 Main Street
Keene, New Hampshire 03435-2612