Journalism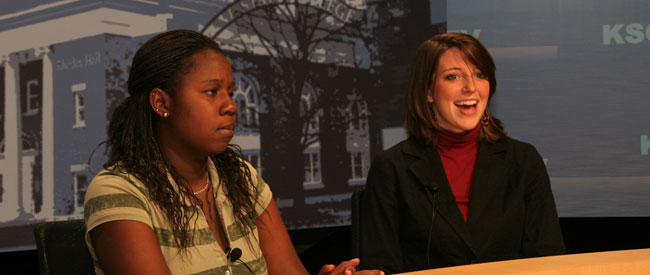 The Journalism major at Keene State College is the only stand-alone, four year journalism degree program in the USNH system and one of the few such programs in New England. The major prepares students for careers in the field by enabling them to build print, broadcast, and digital media skills in an applied setting.
---
Journalism students at KSC have the opportunity to work for the school newspaper, The Equinox and the weekly 30-minute television newscast, KSC-TV News. The Journalism program is housed in the Media Arts Center where students use the Journalism computer lab, the television broadcast studio and audio and video editing labs. More about Program Overview
---
"I didn't expect to turn out into who I did. I didn't expect to become a vegan who exercises, has short hair, is obsessed with coffee, or be a student who would ever come close to a 4.0. But I did."
Eric Walker, '14
News can happen anywhere, anytime, to anyone. Reporting that news accurately and objectively requires a multitude of finely honed talents, including sharp writing and communication skills. It also requires knowledge of the technology and tools that deliver the news to the public. The Keene State College state-of-the-art production studio and student-run newspaper, "The Equinox," provide our Journalism students with opportunities to report on real life news and current events on campus and out in the community.
Here's a look at how current students and alumni are making use of the tools and skills honed in Keene State's Journalism department.
---
If you've ever played a game of Telephone, you know how easy it is for the details of a message to get scrambled as it's passed along. In the field of journalism, passing along accurate information is no game. It's a tremendous responsibility. Keene State College Journalism professors take that responsibility very seriously as they teach our students the importance of fair, accurate, and objective journalism practices. More about Department Faculty
---
Contact Journalism
Wise up!
Contact Admissions
Request information
Journalism
Cheryl Martin
Administrative Assistant
603-358-2770
Admissions Office
1-800-KSC-1909
229 Main Street
Keene, New Hampshire 03435