Film at the Putnam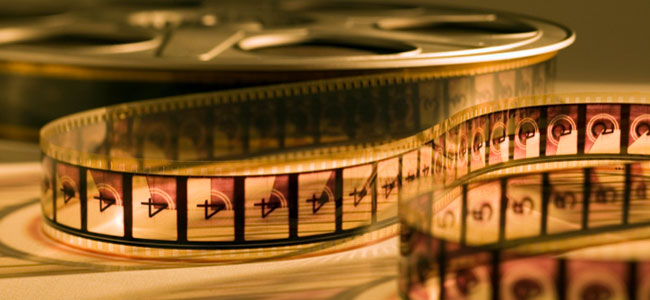 Current Film Schedule
The Sacrament
October 21 - 22, 2014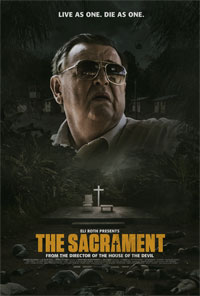 2014, USA, Directed by Ti West , Rated R, 95 minutes.
From acclaimed writer/director Ti West (The Innkeepers, The House of the Devil) and master of horror Eli Roth (The Last Exorcist, Hostel, and Cabin Fever), The Sacrament follows two Vice Media correspondents as they set out to document their friend's journey to find his missing sister.
They travel outside of the United States to an undisclosed location where they are welcomed into the world of "Eden Parish," a self-sustained rural utopia, comprised of nearly two hundred members.
At the center of this small, religious, socialist community is a mysterious leader known only as "Father." As their friend reunites with his sister, it becomes apparent to the newcomers that this paradise may not be as it seems.
What started as just another documentary shoot soon becomes a race to escape with their lives. © Magnolia Pictures
October 17 - 22
Friday and Saturday at 7:00 & 9:00 p.m.
Saturday & Sunday matinee at 2:00 p.m.
Sunday - Wednesday at 7:00 p.m. only
The KSC Film Society Archive Night
October 23, 2014 · 7:00 p.m. - 8:00 p.m.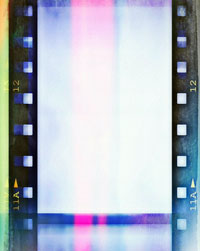 Come see what our members pull out of the College's film archive and put on the big screen. It could be on 35mm, or on 16mm. Maybe even 70mm! Who can say? It could be a huge surprise! Most likely, it will be in the horror genre to keep with our Halloween theme.
Thursday, Octoberr 23 at 7:00 p.m. only
Free & Open to the Public
Dracula / Frankenstein Double Feature
October 24 - 29, 2014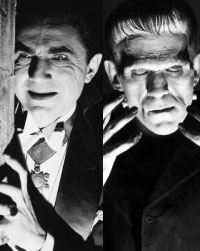 USA, Directed by Todd Browning and James Whale (respectively), Not Rated, Dracula: 75 min. Frankenstein: 70 min.
This year's horror fest goes way back to the films that made Universal Studios what it is today! The success of these two films propelled Universal from a "B" studio (low budget films) to an "A" studio capable of producing high budget films of quality.
These two films also helped to create some of the most iconic Halloween characters of the 20th Century.
October 24 - 29
Friday and Saturday at 7:00 & 9:30 p.m.
Saturday & Sunday matinee at 2:00 p.m.
Sunday - Wednesday at 7:00 p.m. only
An Evening with Visiting Filmmaker Richard Tuohy: Hand-Crafted Cinema
October 30, 2014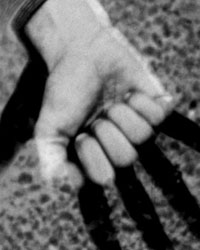 As commercial production of Super 8mm and 16mm film marches inexorably towards extinction, and small-scale, independent labs proliferate to fill the vacuum, Richard Tuohy has emerged as one of the prime standard-bearers of small-gauge filmmaking.
The founder of nanolab, the only artist-run, small-gauge lab in Australia; the Artist Film Workshop, which hosts open screenings and workshops; and the Australian International Experimental Film Festival, all in Melbourne, Tuohy has worked tirelessly to keep the medium and its traditions alive.
He will be in person to screen a selection of his films made over the past 30 years and speak on DIY sensibilities and actions.
Thursday, October 30 at 7:00 p.m. only
Free & Open to the Public
Halloween Horror Fest 2014 Double Feature - the Original Michael Meyers!
October 30, 2014 · 9:30 p.m. - 10:30 p.m.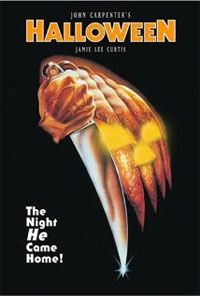 John Carpenter's Halloween & Halloween II
In Halloween, a psychotic murderer institutionalized since childhood for the murder of his sister, escapes and stalks a bookish adolescent girl and her friends while his doctor chases him through the streets. © IMDB
In Halloween II, Laurie Strode is rushed to the hospital, while Sheriff Brackett and Dr. Loomis hunt the streets for Michael Myers, who has found Laurie at the Haddonfield Hospital. © IMDB
Thursday, October 30 at 9:30 p.m. only
Admission will be charged.
Don't Look Back
November 01 - 04, 2014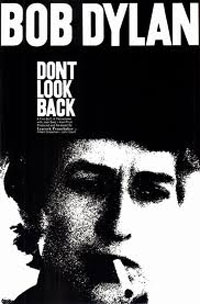 Please Note: No showing on Wednesday, November 5, but there will be a showing at 7:00 pm. on Thursday, November 6.
1967, USA, Directed by D.A. Pennebaker, Not Rated, 96 minutes, DVD.
"Dont Look Back" is about the Sixties and the man who got a lot of us through them.
Bob Dylan is more than the folk singer touted by the record industry, more than the songwriter whose poetry is the only kind many of us remember, more than the Kerouac-kid who haunts our best writing. He is the force that blew us out of one era and into another. His words are ambiguous, his style constantly changing and his avoidance of publicity obsessive, yet he remains the influential voice of our times.
"Dont Look Back" was filmed during a three week concert tour of England in the spring of 1965. More than a view of an extraordinary concert tour, "Dont Look Back" is an intimate portrait of one of the most influential songwriters of our times. © Pennebaker Hegedus Films
Saturday at 7:00 & 9:00 pm;
Saturday & Sunday matinee at 2:00 pm;
Sunday, Monday, Tuesday and Thursday at 7:00 pm.
The Basement Tapes Project: Bob Dylan and the American Songbook
November 05, 2014 · 7:30 p.m. - 9:30 p.m.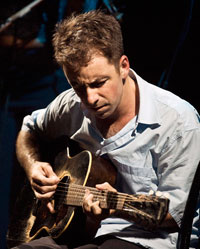 The KSC Film Society will not screen a film on this night so that patrons can have the opportunity to attend this live performance at the Redfern Arts Center.
Conceived by critically-acclaimed musician Howard Fishman, "The Basement Tapes Project" explores the mysterious underground recordings made by Bob Dylan and The Band in 1967.
Performing songs that have never been officially made public, "The Basement Tapes Project" presents a special insight into the life of one of America's most influential artists.
7:30 p.m. in the Alumni Recital Hall.
Tickets are on sale at the Redfern Box Office, the KSC Film Society Box Office and online.
I'm Not There
November 07 - 11, 2014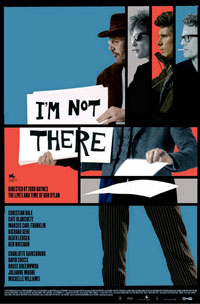 2007, USA, Directed by Todd Haynes, Rated R, 135 minutes, B&W/Color, Blu-Ray.
This re-enactment of the life of musician Bob Dylan features multiple actors embodying different stages in the singer's life.
Stars include Cate Blanchette, Kris Kristopherson, Richard Gere, Heath Ledger, and Christian Bale.
Friday & Saturday at 7:00 & 9:30 p.m.;
Saturday & Sunday matinee at 2:00 p.m.;
Sunday-Wednesday at 7:00 p.m.
Stray Dogs
November 14 - 18, 2014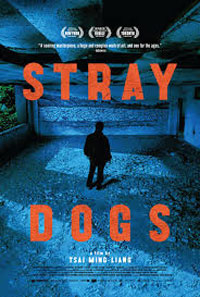 2014, South Korea, Directed by Tsai Ming Liang, Not Rated, 138 minutes, Blu-Ray, in Korean with English subtitles.
A father and his two children wander the margins of modern day Taipei, from the woods and rivers of the outskirts to the rain streaked streets of the city.
By day the father scrapes out a meager income as a human billboard for luxury apartments, while his young son and daughter roam the supermarkets and malls surviving off free food samples. Each night the family takes shelter in an abandoned building.
The father is strangely affected by a hypnotic mural adorning the wall of this makeshift home.
On the day of the father's birthday the family is joined by a woman-might she be the key to unlocking the buried emotions that linger from the past? © Cinema Guild
Friday & Saturday at 7:00 & 9:30 p.m.;
Saturday & Sunday matinee at 2:00 p.m.;
Sunday-Wednesday at 7:00 p.m.
My Life as a Turkey
November 20, 2014 · 7:00 p.m. - 9:00 p.m.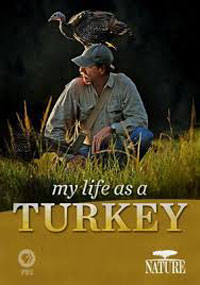 Based on a true story, "My Life as a Turkey" chronicles naturalist Joe Hutto's remarkable experience of raising a group of sixteen Wild Turkey hatchlings to adulthood.
This charming film – which won an Emmy for Outstanding Nature Programming – explores the unique connection between Hutto and his brood with humor and thoughtfulness, providing a rare glimpse into how these curious, intelligent birds see the world.
Following the film, Eric Masterson – one of the Harris Center's resident bird experts and author of Birdwatching in New Hampshire – will be on hand to "talk turkey" in an informal Q&A session.
For more information, contact Brett Amy Thelen at thelen@harriscenter.org or 358-2065.
Co-sponsored by the Harris Center for Conservation Education, the Monadnock Conservancy, and the Keene State College Film Society.
Thursday at 7:00 p.m. only. Free and open to the public.
---
Contact the Putnam
Questions or comments? Feel free to give us a call us at 603.358.2160 or send us an email.