Current Film Schedule
Bag It
April 24, 2014 · 7:00 p.m. - 8:30 p.m.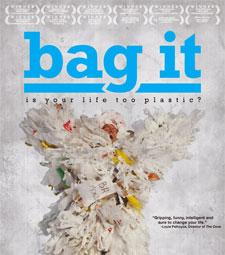 An average guy makes a resolution to stop using plastic bags at the grocery store.
Little does he know that this simple decision will change his life completely. He comes to the conclusion that our consumptive use of plastic has finally caught up to us, and looks at what we can do about it. Today. Right now.
Co-Sponsored by the Harris Center for Conservation Education, The Monadnock Conservancy, The KSC Film Society and Keene State College.
For more information, contact Brett Amy Thelen at thelen@harriscenter.org or (603) 358-2065.
Thursday, 7:00 p.m. only.
Nymphomaniac - Volume 2
April 25 - May 01, 2014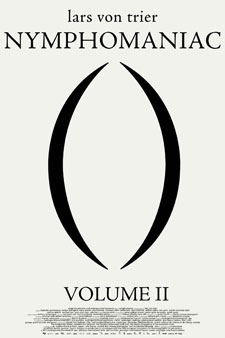 2014, Denmark, Directed by Lars Von Trier, Not Rated, In English, 121 minutes, Blu-Ray.
Volume 2 picks up with the story of Joe's adulthood, where her journey of self-discovery leads to darker complications.
The film stars Jamie Bell, Willem Dafoe, Mia Goth and Jean-Marc Barr in addition to Gainsbourg, Skarsgård, Martin and LaBeouf. © Magnolia Pictures
Friday at 7:00 & 9:15 p.m.
Saturday at 9:30 p.m.
Sunday - Thursday at 7:00 p.m. only.
Saturday & Sunday matinee at 2:00 p.m.
A Fierce Green Fire: The Battle for a Living Planet
April 26, 2014 · 7:00 p.m. - 8:30 p.m.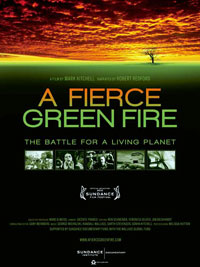 2012, USA, Directed by Mark Kitchell, 101 minutes, Not Rated. Narrated by Robert Redford, Meryl Streep, and Ashley Judd, DVD.
Director Mark Kitchell will be present for a Q & A and moderated discussion following the screening.
A Fierce Green Fire: The Battle for a Living Planet is the first big-picture exploration of the environmental movement – grassroots and global activism spanning fifty years from conservation to climate change.
Directed and written by Mark Kitchell, Academy Award-nominated director of Berkeley in the Sixties.
Narrated by Robert Redford, Ashley Judd, Van Jones, Isabel Allende and Meryl Streep, the film premiered at Sundance Film Festival 2012 and has won acclaim at festivals around the world. 2013 sees the film's theatrical release as well as educational distribution and use by environmental groups and grassroots activists.
Inspired by the book of the same name by Philip Shabecoff and informed by advisors like Edward O. Wilson, A Fierce Green Fire chronicles the largest movement of the 20th century and one of the keys to the 21st. It brings together all the major parts of environmentalism and connects them. The film focuses on activism, people fighting to save their homes, their lives, the future – and succeeding against all odds. Copyright © 2013
Presented by Antioch University, Earth Day, Monadnock International Film Festival and the KSC Film Society.
Ernest & Celestine
May 02 - 08, 2014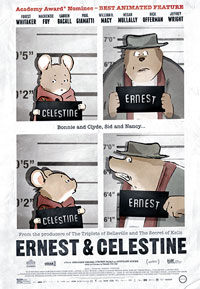 France, 2012, 80 minutes, Animation, Directed by Stephane Aubier, Vincent Patar & Benjamin Renner.? The English-language voice cast features Forest Whitaker, Lauren Bacall, Paul Giamatti, William H. Macy, Megan Mullally, Nick Offerman, Jeffrey Wright. On Blu-Ray.
Deep below snowy, cobblestone streets, tucked away in networks of winding subterranean tunnels, lives a civilization of hardworking mice, terrified of the bears who live above ground. Unlike her fellow mice, Celestine is an artist and a dreamer – and when she nearly ends up as breakfast for ursine troubadour Ernest, the two form an unlikely bond. But it isn't long before their friendship is put on trial by their respective bear-fearing and mice-eating communities.
Fresh from standing ovations at Cannes and Toronto, Ernest & Celestine joyfully leaps across genres and influences to capture the kinetic, limitless possibilities of animated storytelling. Like a gorgeous watercolor painting brought to life, a constantly shifting pastel color palette bursts and drips across the screen, while wonderful storytelling and brilliant comic timing draw up influences as varied as Buster Keaton, Bug Bunny and the outlaw romanticism of Bonnie and Clyde. Bringing it all together is the on-screen chemistry between the two lead characters – a flowing, tender and playful rapport that will put a smile on your face and make your heart grow.
Based on the classic Belgian book series by Gabrielle Vincent, Ernest & Celestine won France's César Award for Best Animated Feature, and has been nominated for Best Animated Feature at the 86th Academy Awards®.
Friday and Saturday at 7:00 & 9:00 p.m.
Saturday and Sunday Matinees at 2:00 p.m.
Sunday through Thursday at 7:00 p.m. only
---
Contact the Putnam
Questions or comments? Feel free to give us a call us at 603.358.2160 or send us an email.