Film Schedule
Museum Hours
December 08 - 12, 2013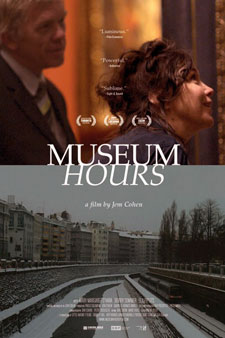 2013, US/Austria, Directed by Jem Cohen , Not Rated, 107 minutes, Blu-Ray.
Acclaimed filmmaker Jem Cohen's new feature, Museum Hours, is a mesmerizing tale of two adrift strangers who find refuge in Vienna's grand Kunsthistorisches Art Museum.
Johann, a museum guard, spends his days silently observing both the art and the visitors. Anne, suddenly called to Vienna from overseas, has been wandering the city in a state of limbo. A chance meeting sparks a deepening connection that draws them through the halls of the museum and the streets of the city.
The exquisitely photographed Museum Hours is an ode to the bonds of friendship, an exploration of an unseen Vienna, and the power of art to both mirror and alter our lives. © Cinema Guild
Friday and Saturday at 7:00 & 9:00 p.m.
Sunday through Thursday at 7:00 p.m. only
Saturday & Sunday matinee at 2:00 p.m.
---
Contact the Putnam
Questions or comments? Feel free to give us a call us at 603.358.2160 or send us an email.