Alumni Spotlight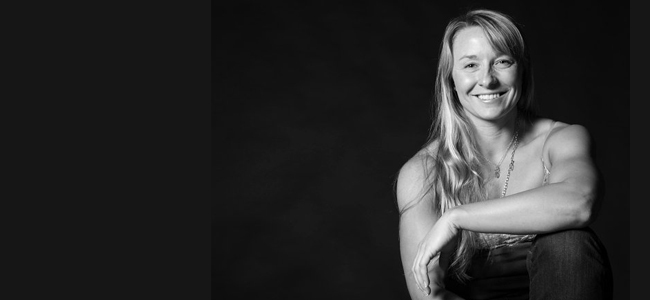 Justina Wentworth Reichelt, '99
Justina Wentworth Reichelt was raised in Keene, New Hampshire and was the youngest of three children. Her brothers and parents moved in with her grandmother because of financial hardship in 1990.
Begin pull-quote…

The longest journey we must take is the eighteen inches from our head to our heart.

…end pull-quote
In 1995, the separation of her parents left her entering 9th grade without intention of aspiring to education beyond high school and she became fully immersed in a self-destructive social scene.
Justina originally chose to apply to TRIO's Upward Bound program to have a summer break from the failure that was becoming a reality. The program exposed her to structure, boundaries, education, athletics and the development of self-awareness she needed to set a new course. She attributes her less-than-average academic career blossoming into success (both academically and athletically) to the support of her weekly guidance meetings with UB staff member, Susie Margraf.
The on-campus UB summer program created a safe space for me to discover my passion and self-confidence…I was consistently challenged to grow and supported to thrive.
Justina earned a full scholarship to Keene State College, was a four-year varsity athlete, and graduated with a BS in Physical Education. She was actively involved in TRIO's Aspire program. She moved on to earn her MBA, RYT 200 and has been involved with athletics and fitness for over 10 years.
As a formal Physical Education Teacher and Coach, Justina is passionate about the development of mind, body, and spirit through fitness and wellness. She is a well-versed ACSM Health and Fitness Specialist and trained in a variety of fitness modes, such as Yoga, Personal Training, Mat Pilates, TRX, Bootcamp and Spinning.
Currently, Justina lives in Stowe, VT, and is the Assistant Director of Campus Recreation - Fitness Programs at the University of Vermont. She is also a Lululemon Ambassador. She passes on her passion for fitness and wellness by getting people to sweat and training students to become Instructors / Trainers. She manages a staff of 47 and believes in continually expanding her heart and mind to benefit others who strive to improve holistically.
---
Upward Bound Programs (UB & UBMS)
Beth Zinn
Sr Program Support Assistant
603-358-2325