Owl's Nest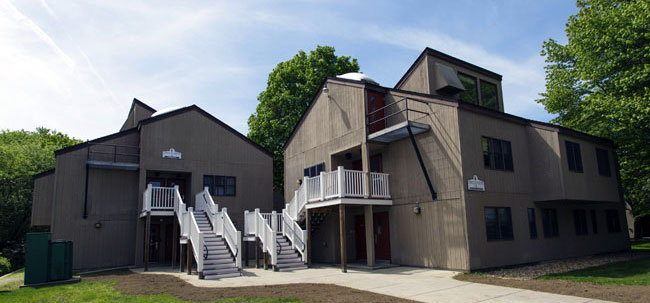 A total of 434 residents live in the nine Owls Nests, with each Nest housing both male and female students. A typical Nest double room includes closets or wardrobes, movable furniture, one entrance light (desk lamps are recommended), and 5 double outlets.
First floor rooms are not carpeted; second and third floor rooms are carpeted. Students who live in the suites/apartments in the Nests are responsible for cleaning their bathrooms.
Floor Plans
Residence Director
Meg's office is in One Butler Court.
Owls Nests Resident Assistants
1 (212), Jay Rooney
2 (201), Brianna Kichler
3 (201), Gabriel Ferrante
4 (212), Elizabeth James
5 (201), Ariel Freedman
6 (212), Josh Paquette
7 (201), Kenadee Cadieux
8 (201), Caitlin Watkins
9 (201), Daniela Galimi
Other Contacts
Owls Nests RD Offices, x8-8992
---
The Office of Residential Life & Housing Services is open from 8 a.m. to 4:30 p.m., Monday through Friday. If you have questions about housing services (room assignments, housing contract, damage billing, etc.) and are unable to stop by the office, feel free to e-mail or call us.
Residential Life Office
603-358-2339
229 Main Street
Keene, New Hampshire 03435