Nicole Dick Named Cheerleading Coach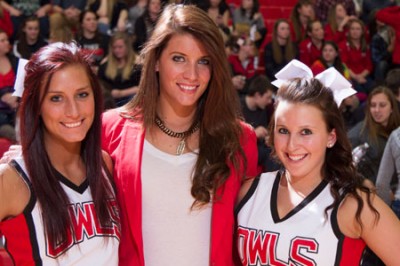 What's it like to lose your coach a week and a half before the start of your season? The Keene State College cheerleading team faced that dilemma when Heath Haskell, who was hired in May, abruptly left the team a couple of weeks before the start of the basketball season.
Fortunately, Nicole Dick '10, a former four-year cheerleader at KSC (2006-10) and a two-year assistant coach at the University of New Hampshire came to the rescue, taking over as Keene State's head cheerleading coach earlier this month.
"I got a call from Keene State athletic director John Ratliff asking me if I was interested coming back and coaching the team," said Dick, a Derry, N.H. native. "I was a little apprehensive at first because of the long commute, but I decided to do it."
Dick sympathized with the cheerleaders. "I went through a coaching transition when I was a Keene State, so I knew how they were feeling," said Dick. "They wanted to go to nationals and be a team, especially the seniors. "I wanted to help them and I'm so glad I did it. All day I think about what we're going to do at practice."
Members of the team were relieved and appreciated Dick taking over on such short notice. "It was very upsetting not knowing if we were going to get another coach, but thankfully we worked through it and they found another coach for us," said Brianna Vacca, a senior from Medway, Mass.
"Heath was a good coach but I don't think his heart was in it as much as Nicole. She used to cheer here, so she knows we want to go to nationals and knows how hard we want to work to get there," said Hayley Grove, a sophomore from Framingham, Mass. "She's hard on us, but it's a good thing. We need the push."
Dick has been cheerleading since the age of six. A four-year member of the Pinkerton (N.H.) Academy cheerleading squad, Dick, who also competed on the Astros track team, served as team captain as a senior and was named the 2006 N.H. cheerleader of the year. Pinkerton won six state titles while she was there.
"I like performing in front of people and I love sports, so I got to go to all the games," said Dick. "It was a lot of fun."
Dick continued cheering at Keene Sate where she was a three-year captain. "We had great camaraderie on the team, especially my senior year when we placed seventh (Division III- all-girls squad) at nationals," said Dick.
While at KSC, Dicks was also a cheer instructor for the National Cheerleading Association (NCA), teaching middle school, high school and college kids at numerous camps. She received several honors from the NCA, including the top rookie instructor for the northeast region (2006), the top veteran instructor (2007), the top rookie head instructor (2008), and in 2009 was nominated for a leadership award.
Although Dick enjoyed her two years at UNH, especially the performances at Wildcats' football games, she couldn't say no when her alma mater came calling. "The head coach at UNH went to school there and he told me how great it was to come back," said Dick, a 2010 KSC grad who majored in social sciences. "Now I understand why he felt that way"
Dick has set realistic goals for her young 16-member squad. "I want the team to improve every day," she said. "Even though a lot of them don't have a background in cheering, they're like sponges. "I just have to tell them something once and they get it and fix it. The first couple of practices they could barely hit a stunt and now they're hitting them solid."
Dick also understands the teams' strong desire to go to nationals, that take place Jan. 17-20 in Orlando, Fla. "I'd just love them to go out there and hit their routine," said Dick. "I want them to do well, but I also want them to have fun."
Cheering at four basketball games so far this season, the team has gotten a very positive response. "I came in a week and a half before the start of the season and after the first game I never got so many compliments," said Dick. "I'm very proud of them."
"I want them to come together and bond as a team, so they'll always cherish these memories," said Dick. "I want them to look back at being a Keene State cheerleader as a really great time in their lives."