Children's Literature Festival Gallery Gets Grant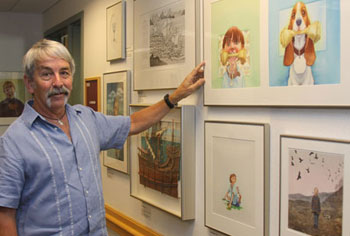 When a member of the Kayser Family visited the Children's Literature Festival Gallery Collection in Rhodes Hall recently, she was so impressed by this delightful collection of work by the best children's book illustrators that she directed NH Charitable Foundation to make a $2,000 grant from the Kayser Family Fund to help support it.
Professor David White, director of the Children's Literature Festival intends to use the award to purchase an illustration from Morris the Artist written by Lore Segal and illustrated by Boris Kulikov who spoke at the 2012 Festival. That illustration will be used for the October 26, 2013, Festival flyer and poster.
The Festival Gallery Collection, which began in November 1990, is a permanent collection of original illustrations, working drawings, and pieces related to children's book illustration. It currently contains hundreds of pieces by 159 artists.