Banking on a Successful Internship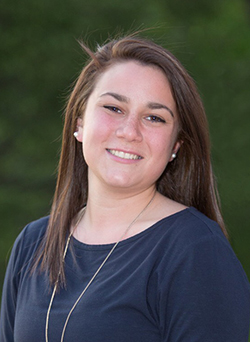 Like most Keene State College students, Kristina Cottone does her banking online these days, using a convenient mobile app to do all of her transactions. But the junior management major from Methuen, Massachusetts, who is also minoring in communications and economics, spent a good deal of her time at the bank during the spring semester, doing an internship with the Savings Bank of Walpole.
Cottone was able to set up the internship with the help of her advisor Bob Simoneau and Linda Hadden, both associate professors of management at Keene State. She said the internship not only taught her about the banking industry, but also opened her eyes to other job opportunities. "Before the internship, I thought I was just going to be in banking finance and accounting," said Cottone, who also serves as a resident assistant on campus. "It wasn't until I went to the loan department that I realized I want to be a realtor too. I'm very lucky I had the internship opportunity, and I was able to find what I actually want to do."
"The internship was an important stepping stone for my future, so I took it very seriously and learned so much," she said. "You always have to listen and pay attention because you're dealing with someone else's money."
The bank experience has already paid dividends for Cottone, who landed a summer internship with Mediware, a blood management and inpatient pharmacy software company located in Andover, Massachusetts. "I think the bank internship helped me to adapt to new settings and new professions," she said. "Even though these are temporary positions, there are numerous things to take away from them for future jobs."
During the semester-long internship, Cottone got to learn many facets of the bank's operation, including the deposit and loan departments as well as working as a teller. "At first it was very intimidating, because I was a junior in college and most of the people I was working with have been at the bank since I've been alive," said Cottone, who revamped the College's marketing club this year. "But everyone was very welcoming and nice."
While Cottone wasn't necessarily born to bank, she does have a strong business pedigree. Her mom serves as an accountant for the North of Boston Media Groups, a large newsgathering corporation.
"Being able to offer this kind of educational opportunity is as exciting for us as it is for Kristina," said Gregg Tewksbury, president and CEO of the Savings Bank of Walpole. "It's one of the ways we are able to show our support for education and give back to the community."
Related Stories