Wheeler Won't Let Disappointment Keep her Down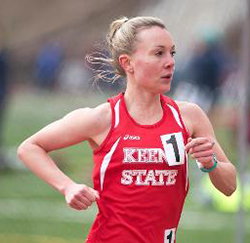 For most people, a few minutes are not a long time. A couple of seconds? Trivial. And a few hundredths of a second? Forget about it. But to Kait Wheeler, they meant everything.
In a sport where time is of the essence, the senior from Keene State College saw her NCAA Track and Field Championship aspirations dashed on Sunday when she learned that she missed the cut in the 3,000m steeplechase event by just 0.06 seconds.
"Kait is obviously very disappointed," said Keene State track coach Tom Pickering. "But it doesn't lessen her wonderful accomplishments and all the growth she experienced during her outdoor season and final year running for Keene State."
While the sting of not getting a berth to the nationals hasn't quite worn off, Wheeler said she was proud of the progress she made in the event. "I knew it wasn't going to be easy when I tried the event," she said. "I didn't have any expectations about qualifying for nationals. I just wanted to give it my best shot."
And Wheeler did just that. Attempting to qualify for the NCAA Championships is hard enough, but trying to do it in an event that you did for the first time midway through the spring track season is even a tougher. But Wheeler was up to the challenge.
"Let's see what she can do"
A highly successful cross-country and mid-distance runner for the Owls, Wheeler didn't think twice when Pickering asked her to consider the steeplechase event. "He was coming at it from the perspective that I can already run the 3,000 meters, so let's see what she can do when there are some barriers and hurdles involved," she said.
"We decided that the 3,000m is the sweet spot for her in terms of distance, and in the spring the only 3000m event is the steeplechase. So she was willing to give it a try," said Pickering.
It's not the first time Wheeler had challenged herself when it came to running. While most runners come to college with a solid base of experience after competing on high school and club teams, Wheeler had neither. Except for a few road races and recreational runs with her mother around their hometown of Exeter, NH, Wheeler came up a few miles short. But something told her to put her best foot forward and give collegiate running a try. "I don't know what it was I just think it was very serendipitous and fate – a little bird telling me I should run," said Wheeler. "I don't know what was going on in my brain, but for some reason that was the path that I took."
Like most runners, Wheeler endured her share of injuries throughout her Keene State running career. "I didn't understand what my body limitations were," said Wheeler. But an unwavering Wheeler refused to concede. "People say, 'Maybe you're not supposed to be a runner,' but that's not what my heart tells me," she said. "So I'm going to keep running."
Keep running, keep winning
Wheeler not only kept on running, but kept on winning. Capturing multiple mid-distance championships at Little East Conference meets, Wheeler capped off her Keene State cross country career last fall when she placed 14th at the NCAA regional race, helping the Owls earn their first NCAA berth in nine years.
Building her strength with high-mileage workouts during the winter, Wheeler was ready to tackle the biggest obstacle of her running career this spring.
Wheeler won the first two steeplechase races she competed in, first at Fitchburg State (11:36.62) and two weeks later at the Little East Champions (10:58.29) when she not only carved 38 seconds off her time, but found herself with the 17th best time in the country. Despite her first-place finishes, Wheeler said she entered both races with a lot of anxiety. "I was terrified before both races because I'm not competent on the water barriers," Wheeler admitted. "I told my boyfriend former KSC All-America Ryan Widzgowski that I'm going to cause a steeplechase catastrophe at the New England Championships, and I'm going to be in front of a 12-girl pileup, and it's going to be my entire fault."
Shaking off the shock
Wheeler's premonition proved almost clairvoyant. Poised to finish around third or fifth at the New Englands and improve her time and national ranking, Wheeler took a hard fall at one of the jumps, landing submerged in water. Although she shook off the shock and resumed the race, and even showed her competitive spirit by kicking past a handful of runners to finish eighth and earn All-New England honors, Wheeler lost valuable seconds that jeopardized her national ranking.
Needing to post a better time to secure her spot at the NCAA championships, Wheeler ran well at the ECAC Championship four days later, missing her PR by three seconds (11:01) with her fourth place finish.
Unfortunately, time wasn't on Wheeler's side. After coaches declared their runners and the field was set, Wheeler saw her NCAA championship dream come to an end. Despite the outcome, Wheeler says she has no regrets. "Absolutely not - I'm so excited to run the steeple post-collegiately and have no plans of stopping anytime soon," she said.
Related Stories