HGS Majors Present at Ft. Leavenworth Ethics Symposium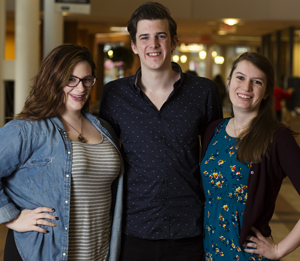 Three Keene State Holocaust and Genocide Studies majors will be presenting their research for consideration in real-world applications at the Fort Leavenworth Ethics Symposium at the Command and General Staff College in Kansas in April.
Kathleen Dougherty '17, Brett Lancaster '16, and Kathryn Gillum '16 will accompany Dr. James Waller to Fort Leavenworth, where Dr. Waller will deliver the keynote speech on the ethics of humanitarian military interventions and the three students will follow. The three-day symposium will explore the ethical implications of applying military forces in non-traditional roles in response to a rising number of conflicts worldwide.
"Most attendees will be military personnel, many of them in residence at the Command and General Staff College," said Dr. Waller. "Our students will be focusing on issues of genocide prevention and sexual violence so, as HGS majors, should bring a rather informed comparative perspective to the discussions."
Dougherty will speak on the topic of sexual violence during conflict and will refer to studies of conflicts, such as Bosnia-Herzegovina and Iraq, where sexual violence was prevalent, to highlight the failures and successes of past military interventions.
"The classes I have taken here at Keene State have more than prepared me to write this paper. My interest was first sparked during Dr. Waller's genocide course in his topic of Rape as a Tool of Genocide," said Dougherty. "I'm looking forward to working with Dr. Waller on my final paper and presentation because of his knowledge and expertise in this field. I know that working with him on this will allow me to strengthen my abilities to work in this field."
In her paper and presentation, Gillum will take a scientific look at the five current assessment models for genocide and mass atrocity and explain the values and shortcomings of each. "I'm planning to assess the different ways to identify genocide to identify similarities for each and theorize ways to make them more efficient," she said. "My studies at Keene State have been one of a kind, and I can honestly say that all of my classes have been preparing me for this opportunity. Dr. Waller's Comparative Genocide class opened my eyes not only to genocides of the past and present but also the many different risk assessments used to classify them."
Lancaster's paper and presentation will focus on the underlying culture surrounding genocide rather than the economics or politics of a group—which are generally the main considerations when assessing a conflict and it's genocidal potential. "Many risk analysis guidelines focus on things like economics and regime types of governments, but I argue that culture and ethics are the underlying factor that influences all actions of the governments and perpetrators of genocide," said Lancaster.
While there are far more than three aspects to assessing and responding to conflict and potential genocide, the research presented by these three students will help inform the discussion of what means the U.S. military can provide outside of military force during instances of conflict worldwide.
Video profile of Kathleen Dougherty:
Related Stories