Alex Habibi '15: in Cambodia with the Peace Corps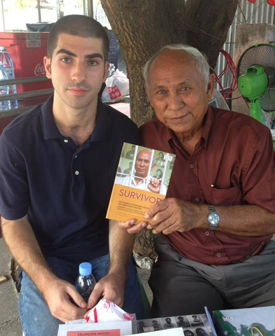 Just imagine what the Peace Corps recruiter must have thought after he or she had interviewed Alexander Habibi '15. How could the organization find a more perfect candidate? The former Keene State student already had considerable service-oriented international travel as an undergrad—including trips to Rwanda and South Africa. His experience, inclination, and adventurousness made him an excellent fit for the job. "I've always dreamed of working for the Peace Corps, learning a new language and testing my wits in a new surrounding," he explained.
He's now a high school English teacher in Cambodia's Kampong Cham province, and the girls' volleyball assistant coach, while also teaching English to the other teachers at his school. On top of that, he's learning Khmer, the national language, and living with a big Khmer family, which helps his language study. "I'm not fluent in Khmer, but I can travel anywhere and hold fairly intelligent conversations about such subjects as life in America or agriculture in Cambodia," Habibi said. "Life is quite easy, and the food here is wonderful. It's really rewarding to see the way the Khmer people smile when they hear me speak their language. Many tourist guide books make it seem as if Khmer people are shy, but if you know Khmer it opens a whole new world."
Although Habibi realizes that "nothing can prepare someone fully for leaving cushy America and living in rural Cambodia," he notes that Keene State's Holocaust and Genocide Studies program (he's a dual major in HGS and history) exposed him to Cambodia's tragic history under Khmer Rouge rule. "This prepared me intellectually in the sense that I know about the history here and understand how that bleeds into the present," he said.
Related Stories