Samantha Provencher Lands Internship at Florentine Films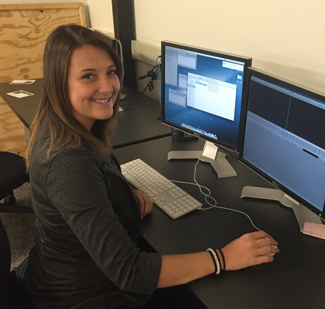 Ever wonder how people break into the film industry? It's not easy, but Film major Sam Provencher is doing just that, thanks to the excellent training she's getting in the Film Department and the department's close ties to nearby Florentine Films, where the junior is working alongside Academy Award-winning director Ken Burns. She is responsible for such duties as assisting during screenings, film editing, and other production needs. Florentine Films, founded in 1976 in Walpole, NH, is has produced some of the most honored documentaries in the film industry.
Samantha says she owes much of her success, and the opportunity to follow her passion at Florentine Films, to Keene State's Film Department. The Film Department at Keene State College balances theoretical and applied course work. Graduates most often go on to further study film, or enter careers in the analysis and production of film and television. Other avenues that film graduates pursue include careers in the business world, such as personnel, counseling, advertising, public relations, and sales. "My whole life I have always been interested in film. Movies and the creation of film and television have always captivated my interest," said Provencher. "I have learned that it's quite a demanding job. I learn so much everyday."
As part of the applied course work, the department teaches the film-editing software, Avid, which is an industry standard. "We are required to learn how to use Avid, and I'm glad because I was expected to know the software on the first day of my internship," said Provencher. "This knowledge gave me an advantage at my internship, and I am free to sharpen my skills while I apply what I learn in the classroom."
Samantha also shares what she learns at her internship in the classroom. "By the end of this internship I will be a fully-trained apprentice. Interns at Florentine Films are trained very well – they are hands on with everything that has to be done to make the film. I bring what I learn back to my classes, and I will have gained many skills that will set me apart from competitors for future jobs as well," said Provencher.
—by Matthew Pereira, KSC Marketing & Communications intern
Related Stories