Student Media Selected for 17 National Awards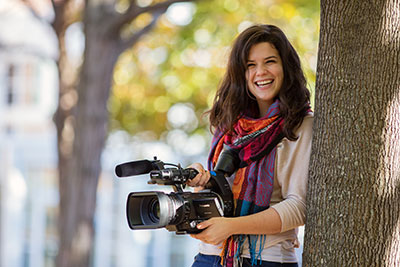 Keene State College Student-Run Newspaper and Television Station Selected for 17 National Awards
Society for Collegiate Journalists Issues Annual National Awards
The Keene State College Chapter of the Society for Collegiate Journalists (SCJ) has received recognition for student-run print newspaper and online news outlet, "The Equinox" and also for student-run television station, KSC-TV, during an annual national competition held by the Society for Collegiate Journalists. The Keene State Chapter took home 17 national awards. A total of 60 schools around the country participated. Students were recognized in the areas of reporting, writing, design, photography and photo essay. Journalists from around the country selected the winners of these awards.
The Society of Collegiate Journalists is the nation's oldest organization, solely for collegiate journalists with roots going back to 1909. The Keene State Chapter members are selected for the caliber of their journalistic work in all areas of media.
"We are proud of the work our journalism students do both in our classes and in the campus media. This is the first time Professor Chad Nye submitted work for KSC-TV news. Winning two broadcast awards the first time out shows how our students in both our print and broadcast programs excel nationwide in the Society of Collegiate Journalists competition. Journalism at Keene State College reflects the present and future of journalism with awards in all multimedia categories," said Keene State College Department of Journalism Chair, Dr. Rose Kundanis.
Judges provided feedback on the work done at Keene State with comments such as "your opinion pieces were among the best entries this year" and "these collegiate journalists have very bright futures ahead of them and should be proud of their work".
"The Equinox" earned the following SCJ awards:
Newspaper category:
Overall Excellence: First Place
Front Page: First place – David Walsh and Kyle Bailey
News Page: Third place for "Risk of Ebola" by David Walsh
Features Page: Second place for "Chalk.Love.Keene" by Stephanie McCann
Features Page: Honorable mention for "Spring Fever" by Stephanie McCann
Photo Essay: First place for "Darties Take Over Keene Streets" by Kyle Bailey
Online News Website Overall Excellence: Third place
Individual Writing category:
Editorials: Third place for WHY? By Taylor Howe
Multi-story Journalism: First place for "The Many Faces of Gino Vallante" by Brittany Ballantyne, Julie Conlon and Zach Winn
Features: Third place for "KSC Saves over 400,000 water bottles with bottle-filling stations around campus" by Alexa Ondreicka
Sports features: Honorable mention for "Passion for swimming unites men's swimmers from around the globe" by Kendall Pope
Sports columns: First place for "NFL female fan base slowing dwindling" by Caitlyn Kelly
Individual imaging category:
News photography: First place for "Hands on Face" by Eric Gesualdo
Feature and Sports photography: Honorable mention for "KSC player with bat" by Brian Cantore
KSC-TV won second place and honorable mention in overall broadcasting excellence.
More on the Society for Collegiate Journalists can be found online
Related Stories