Keene State Formalizes Alliance with US Dept. of Labor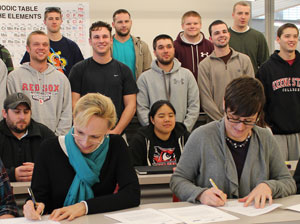 US Department of Labor Occupational Safety & Health Administration and Keene State College OSHA Training Institute Formalize Alliance
Signed Alliance Agreement Benefits New England Workers and Acknowledges Keene State's Leadership
Today, an alliance between Keene State College's Occupational Safety & Health Administration (OSHA) Training Institute Education Center (Keene State OTIEC) and the US Department of Labor OSHA was formalized with the signing of an agreement that acknowledges this critical working relationship. The agreement recognizes the collaborative commitment of the two organizations to foster safer and more healthful American workplaces.
"We are thrilled to formalize our affiliation with the Department of Labor through this alliance agreement. Because of our relationship, Keene State has the ability to address OSHA needs of New England businesses, while providing valuable resources to Keene State students," said Robert Baker, director of Continuing Education at Keene State College. "Our work with the Keene State OSHA Training Education Center is one example of the college's commitment to the wellbeing of New Hampshire workplaces and employees."
Keene State OTIEC provides OSHA training to New England employers to help reduce workplace hazards and related human and financial costs. Training programs address hazards associated with working in general industry, construction, maritime, industrial hygiene, and health care. This alliance with US Department of Labor provides Keene State OTIEC's instructors and students with access to training resources, and it supports outreach efforts, and promotes safety and health training. Keene State OTIEC is one of 43 education centers around the country working with OSHA.
In 2012 alone, the OTIEC has trained more than 2,000 people and supported other OSHA industry trainers, who were responsible for training 36,000 workforce members. The initial agreement was signed in 1994.