Keene State's Wojtas puts student before athlete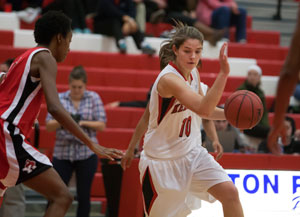 A longtime faculty member at Keene State College and former NCAA rep for the Owl athletic program, Vincent Ferlini was given the honor of presenting the prestigious student-athlete award at KSC's athletic dinner every year.
Ferlini, a math professor, always began his remarks with the following statement: "It is no accident that the label 'student-athlete' has the word 'student' coming first, since the primary responsibility of these young people at Keene State is academics."
While Ferlini would go on to the extol the virtues and accolades bestowed of the award recipient, his opening comment could also apply to Christan Wojtas, a sophomore guard on the Keene State women's basketball team.
While most incoming athletes can't get wait to get their collegiate careers started, Wojtas, an Amherst, N.H. native, decided to put the classroom before the court, taking a one-season sabbatical away from the game to concentrate on acclimating to college life and getting her academics in order. "It was definitely a hard decision," said Wojtas. "I was more focused on school, trying to figure my way, and make friends. Basketball seemed like a big time commitment."
Wojtas went on to say she didn't regret her decision. "At the time, I thought it was a good decision for me," she said.
Keene State women's basketball coach Keith Boucher readily recalls the day Wojtas came into his office to tell him the news. "Christan came in and said, 'I think it's going to be too much. I want to concentrate on my academics.'''
"What are you going to say?" said Boucher. "I told her 'I support what you're doing.' I understand it's not an easy thing to do, and if I can help you with anything, please let me know." Wojtas came away from the meeting with a good feeling. "I thought it was good ending," she said. "The door was open. If I wanted to, I could come back and play next year." Although he would miss having Wojtas on the team, Boucher understood her predicament. "I think it was a little overwhelming for her because she didn't realize what she was getting into," he said. "I tell every recruit that there are many responsibilities being a college basketball player. You have to have a passion for it – which I think she did."
Wojtas's passion for the basketball began at a young age. Tutored in the sport by her older sister Kate, Wojtas made the typical progression, playing on local travel and AAU teams. A member of the Souhegan High School JV team as a freshman, Wojtas was called up to the varsity during the Sabers tournament run. Not yet hitting her growth spurt, Wojtas was initially a shooting guard at Souhegan, noted for her long-range accuracy. "I hit about eight three-pointers in one game," remembers Wojtas. "I saw the varsity coach up in the balcony laughing, so I got pulled up for the playoffs."
Despite a coaching change at the start of her senior year, Souhegan went undefeated (22-0) and captured the 2011 state (Division II) championship. Wojtas, who earned All-State honors, scored 13 points in the title game against Lebanon. "It was awesome," she remembered. "I had a lot of support. My friends painted their stomachs – 'Go Christan' – and all l my past coaches were at the game."
Although she was on the recruiting list of several local colleges, Wojtas seemed destined to attend Keene State. Her older sister Rosemary was a 2009 KSC grad, and Maureen Greene, a teacher at Souhegan and a '97 and '98 KSC grad, helped put the wheels in motion by contacting the KSC athletic department to let them know about her interest. Arriving at Keene State, Wojtas didn't completely abandon the sport. Although she intentionally boycotted the games, she was a frequent visitor to Spaulding Gym, spending time shooting as much as she could. "I definitely missed it, but I think it was a good mental thing for me to do – I'd had been playing basketball my whole life," she said. Asked if there's was any doubt she would come back and play, Wojtas quickly responded: "No, I knew I was going to come back."
"It doesn't do any good to force somebody to do something," said Boucher. "They have to choose to do it."
Late in January, Boucher received a message from Wojtas, telling him how much she missed the game and inquiring about the opportunity to try out for the team next year. "I got back to her and told her if she was sincerely interested to come see me in the spring so she could work out with the team," said Boucher. "She did, and the rest is history." Wojtas' time off the court was well spent. She not only has adapted to college life, but exceled in the classroom, making the dean's list last spring. It was time to return to the court. "The first day of practice felt like Christmas," said Wojtas. "I couldn't wait to get going."
Earning a spot in the starting line-up, Wojtas didn't waste any time getting her college career off to a good start, hitting the teams' first two shots in an opening game victory over York (N.Y.) College. "It was unbelievable," said Wojtas. "I was just trying to look at the open floor, relax, and take my shot. It's nice to be back on the court."
Wojtas didn't stop there. She currently is second on the team in scoring (10.6 pgg.) and third in rebounding (4.8 rpg.). Her performances haven't gone unnoticed. She was recently named the Little East Conference Rookie of the Week after scoring 13 points and hauling down six rebounds in a loss to nationally-ranked Amherst College and pumping in a season-high 15 points and handing out three assists in her Little East debut at UMass Dartmouth.
"I've always been passionate for the sport, and taking the time off just enhanced that feeling," said Wojtas. "I'm happy about the commitment I made to concentrate on other aspects of college life before stepping on the court. Now I can focus on playing and building my confidence back up a little bit."
"The bottom line is you have to follow your heart," said Boucher. "You have to do what is best for you and the great thing is … she does have a passion for the game. Sometimes once you lose something, you really appreciate what you lost, and I think that's what happened with Christan. It was something she did her whole life and all of sudden wasn't there any more."
Related Stories