New England Artists Exhibit in Printmaking Invitational at Carroll House Gallery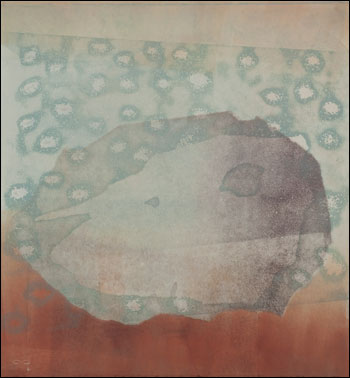 October 4 - November 3
Printmaking Invitational 2012
Contemporary printmaking by ERIKA RADICH, PHYLLIS MCGIBBON, PETER MARCUS, and SARAH AMOS
The Art Department at Keene State College is pleased to present an invitational exhibition featuring non-traditional approaches to printmaking by 4 New England artists: Erika Radich of Keene; Phyllis McGibbon, of Wellesley, Massachusetts; Peter Marcus, of Jamestown, Rhode Island; and Sarah Amos of St. Johnsbury, Vermont. Their work will be shown at the Carroll House Gallery from October 4 - November 3.
Regionally recognized artist Erika Radich has garnered a following for her airey, evocative monotypes that explore research into the diminishment of biological diversity due to climate change. Her aethestic concerns include examining the quiet repetitive process she engages in as it connects to meditative practices. Radich has an undergraduate degree in Studio Art with a minor in Biology. She is currently completing her MFA printmaking at Heartwood College of Art in Maine. Radich is represented by Zea Mays Printmaking in Florence, Mass. Her work has been awarded first place awards in 2011 and 2012 at Art in the Park in Keene, been included in the Prominent Printmakers Exhibition at the New Hampshire Institute of Art, and shown internationally at the School of Art Gallery and Museum at Aberystwyth University in Wales, United Kingdom.
Phyllis McGibbon is a Professor of Art at Wellesley College where she teaches printmaking Her prints, artists books, and installations have been exhibited internationally. Her work is included in the collections of the Getty Museum, the Victoria and Albert Museum, and the Library of Congress. Her work mixes a range of techniques, from hand drawn traditional lithography to sculpture to digital media. Her subject matter explores the melding of art historical and sociological concerns with contemporary media. Each print projects demonstrates her thoughtful melding of precise form /ideation with an acute beauty of mark and image.
Peter Marcus's massive mural sized collagraphs reference architecture. His imagery includes elements of building construction: framing overlayed within images of traditional New England structures. The exterior, interior of the buildings and their life over a span of years are indicated in each print's rich layers. While Marcus is currently residing in Rhode Island, for 20 years he was the head of the Printmaking Department at Washington University School of Art in St. Louis. Marcus is represented by the Eliot Smith Gallery in St. Louis and has also been exhibited at Lyndon Art, and Jan Cicero Galleries in Chicago, the Drawing Center and Steinbaum Krauss in New York City.
Australian printmaker Sarah Amos has been a resident Vermont for over 15 years, and a prolific practicing artist for over 20 years. Her large-scale multi paneled abstract prints incorporate collagraph, etching and hand-work. Within passages of clear mark-making lies a suggestion of time keeping and the patterned aboriginal art of her native country. Each work also suggests a deeply layered space alluding to flight or big sky landscape. Amos studied at the Tamarind Institute in Albuquerque New Mexico where she became a master printer in 1992. Her work is exhibited internationally - she is represented by Cynthia Reeves Gallery in New York City and New Hampshire, and has exhibited works venues such as Gallery 101 in Melbourne, Australia; Wayne State University, in Michigan; Gebert Gallery in Sante Fe, New Mexico; and the DeCordova Museum in Massachusetts.
This event would not be possible without the support the Homeland Foundation.
The Carroll House Gallery at Keene State College is located on Main Street, beside the Alumni Center.
Hours: Wed thru Sat 12-5pm. All Carroll House Gallery events are free, open to the public and wheelchair accessible. Directions: http://www.keene.edu/aboutksc/campusmap.cfm
Related Stories