KSC Chamber Singers Build Trail to Porcupine Falls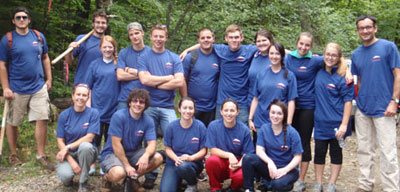 The KSC Chamber Singers as trailwrights? How does that work? Easy: For the past three semesters, the Singers have partnered with local non-profits. The ensemble works with an organization to learn about its mission, promote awareness about the group, and give a themed performance to raise money for that organization.
This semester, the Singers have partnered with the Monadnock Conservancy, a local land trust. They worked with the Conservancy to build a trail to Porcupine Falls in Gilsum, on land that was recently donated to the land trust. The Chamber Singers will give a concert this December (3 p.m. Saturday, Dec. 1, in the Alumni Recital Hall) to benefit the Conservancy, and that will include a world premiere of a commissioned work centered on the themes of conservation and land preservation. In addition, a discussion panel before the concert will feature the guest composer and the Conservancy's executive director, Ryan Owens (also bass singer with the Chamber Singers of Keene), who will discuss the merger of music and the protection of land.
During the fall 2011 semester, the Chamber Singers partnered with the Hundred Nights homeless shelter in Keene, founded by KSC alum Don Primrose '07. Last spring, they joined with Stonewall Farm, a local non-profit educational farm in Keene.
"Through these partnerships, our students become more aware of and involved in local non-profit organizations whose missions focus on sustaining the community, whether it be through enhancing quality of life, producing sustainable food, or educating others about green practices and conservation efforts," said Assistant Professor of Music Education Sandra Howard.
Related Stories