Michelle Sigiel '10 Visits Poland as Auschwitz Jewish Center Fellow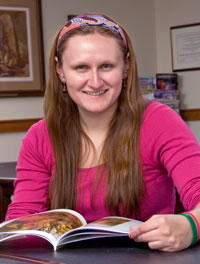 Most people see the wisdom in following their passion, and probably most of us pursue what we love to some degree, but few have taken that path with the focus and intention of Michelle Sigiel '10.
Michelle loves history and political science-especially as they relate to the Holocaust and World War II-era Europe. When she was at KSC, she had the distinction of being the first Holocaust & Genocide Studies (HGS) major in the first such undergraduate program in the country. She also majored in European history and political science.
She graduated with honors and co-founded, with department chair Paul Vincent, the HGS honor society, ZXP (Zeta Chi Rho). She went on to pursue an MA in history at the University of Vermont, focusing on the Holocaust in Germany, Poland, and Austria. She is also one of 10 graduate students and PhD candidates that the Auschwitz Jewish Center Foundation (AJCF) chose to participate in the Center's Auschwitz Jewish Center Fellows Program.
This powerful, three-week program held in Auschwitz fosters academic and personal growth and community activism as participants study the universal implications of the Holocaust.
She travels to Poland on July 4 for three weeks, where the Fellows visit four cities and explore southeastern Poland's rich Jewish heritage and meet with local Jewish and non-Jewish leaders.
An intensive program at the Auschwitz-Birkenau State Museum offers the Fellows a rich opportunity to delve into its archives, collections, publications, and educational departments. For someone with Michelle's keen interests, this sounds like an ideal opportunity.
Related Stories