Carroll House Gallery Opening Engages Community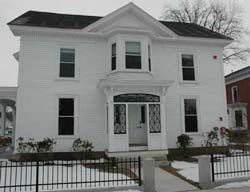 Keene State College's Carroll House Gallery will open on Thursday, January 27, to offer students, artists, and the Keene community regular samplings from the world of contemporary art. The opening exhibit will feature the work of Jarod Charzewski in a site-specific installation called Earthflow, which references western civilization's consumer culture and the idea of perceived obsolescence. Charzewski will use discarded clothing collected from Keene and the surrounding area to create an expansive, three- dimensional landscape that pays homage to the Monadnock region. His previously exhibited works appear as vast color fields meticulously layered, stacked, and shaped to mimic the earth's layers.
Charzewski says "through our ever expanding and multiplying landfill sites these new layers will provide us with a planet rich in synthetic nutrients and chemically enhanced goodness." By collecting clothing from the local communities, the artist intends to engage area residents and instill a sense of global responsibility. Following the project, these materials/garments will be donated to a local thrift store.
Currently an assistant professor in sculpture at the College of Charleston (SC), Charzewski will work with KSC students for four days, installing the exhibit before the gallery opens. The artist will talk about his work at noon on Wednesday, January 26, in the Thorne-Sagendorph Conference Room, and there will be an opening reception at the Carroll House Gallery from 4-6 p.m. on Thursday, January 27. This event is made possible through the support of the Roberta F. Roos Annual Art and Theatre Arts Lecture Endowment and the Class of 1939 International Education Fund.
Carroll House, located next to the Alumni Center on Main Street, was recently converted from student housing to handsome gallery space through the support of the Office of the Provost and the Facilities Planning Advisory Committee. The Gallery will exhibit the work of KSC students and invited artists, functioning as a teaching gallery, where the Keene community can view contemporary art. It will create opportunities for Keene State art students to display their work, create art installations, and perform other gallery- management tasks.
On February 24, the Gallery will host an invitational show of community artists, including several KSC alumni.
A third exhibit is planned for March 24 featuring the work of Connecticut College sculptor Greg Bailey along with student photography and ceramic art.
The first formal alumni exhibit will be hung on April 21 and will stay up through Reunion Weekend, June 3-5.
All Carroll House Gallery events are free and open to the public. The gallery is open from Wednesday through Saturday from 12-5 p.m. For more information, contact the KSC Art Department at 603-358-2040.
Related Stories