Nona Fienberg to Attend Summer Institute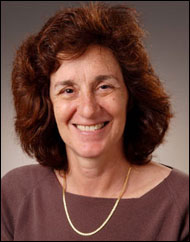 Dr. Nona Fienberg will be moving from her current position as dean of Arts & Humanities in June to teach in the Holocaust and Genocide Studies Department.
And she's already receiving recognition in her new position. This summer, she's been awarded a fellowship to the first European Summer Institute on the Holocaust and Jewish Civilization at the Royal Holloway campus, Egham, Surrey in England.
This intensive, two-week residential program is designed to broaden the background of postgraduates in Holocaust studies, early career academics, and educators in relevant fields. The curriculum consists of courses, lectures, and seminars taught by leading scholars on such themes as the history of Jews and Judaism in Europe, Holocaust history, the Holocaust in literature and film, and the Holocaust and modern thought.
Related Stories