Aquila Theatre Company Brings Shakespeare's 'Twelfth Night' To Keene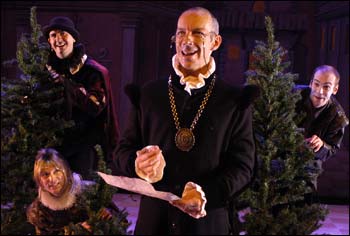 KEENE, NH, 3/11/05 - One of the most warmly received professional theatre ensembles to visit Keene, the acclaimed Aquila Theatre Company will stage one of Shakespeare's funniest and most charming comedies, "Twelfth Night," at Keene State College's Redfern Arts Center on Brickyard Pond. Appearing for its sixth visit to Keene, Aquila will be seen on Tuesday, March 29, in a special school presentation at 10 a.m. and an evening performance at 7:30 p.m. The performances are made possible through a corporate sponsorship from Markem Corporation.
Written in 1600 and set against a background of romance and mystery, "Twelfth Night" is the hilarious story of identical twins and mistaken identity. Set in the mystical world of Illyria, it explores the universal themes of love and all its ambiguous effects on human behavior.
Described by the New York Times as "classically trained, modernly hip," Aquila takes great Shakespearean masterpieces and infuses them with their unique brand of innovative theatricality. Aquila's creative team, led by Peter Meineck and Robert Richmond, free the essential spirit of the play in a production that is both faithful to Shakespeare and relevant and accessible to a modern audience. This contemporary production still encompasses and enhances the shipwrecks, duels, love and jealousy, disguises, suspicion, and ultimate reconciliation of Shakespeare's superb text. Aquila's British/American ensemble of professional actors will bring their experience, dedication and creativity to Brickyard Pond's Main Theatre.
Aquila has gained a well-earned international reputation as one of the foremost producers of touring theatre. Since its founding in 1991 it has won both critical and academic acclaim for its work worldwide as it changes the perceptions of classical drama by freeing the spirit of the original text and allowing the widest possible audience to enjoy these great plays as live, visceral, and, above all, entertaining theatre.
Aquila tours extensively throughout North America and Europe and is the Company in Residence at New York University's Center for Ancient Studies. It has presented regular runs in New York and London, with multiple performances in major cities across the United States including Los Angeles, Boston, and Washington, D.C. Additionally the company stages performances at festivals and regional theatres including the La Jolla Playhouse, The New Victory Theater in New York City, the Folger Shakespeare Library in Washington, D.C., and the Bermuda Festival.
Tickets, available through the Brickyard Pond box office at 603-358-2168 or www.keene.edu/racbp, are $21 and $17 for the general public, $19 and $15 for seniors and KSC faculty and staff, $11 and $9 for youth 17 and younger, and $5 for KSC students with ID. Tickets for the school performance are $7 and may be reserved by calling the box office.
Related Stories