An Evening with Filmmaker Nico Pereda
Redfern Arts Center - Putnam Theater
Monday, April 15, 2013 · 7:00 p.m. - 9:00 p.m.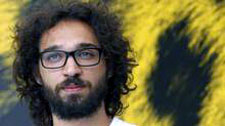 Nicolás Pereda is a Mexican film director. He has recently exploded onto the stage of contemporary world cinema for work that is characterized by long, quiet takes, a mixture of documentary and fiction and the repeated use of an ensemble of nonactors. © WikipediA.org
Monday at 7:00 p.m. only -- Free and open to the public.
This event is part of the Putnam Film event series.
Contact:
Putnam Theatre
603-358-2160
To request accommodations for a disability, please contact the coordinator at least two weeks prior to the event.