The NH Jewish Film Festival
Redfern Arts Center - Putnam Theater
Saturday, April 13, 2013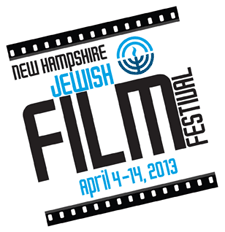 Admissions is $10 per person
Advance tickets for all screenings may be purchased from Jewish Federation of New Hampshire online at www.jewishnh.org (in-person ticket purchase subject to availability on day of screenings); by phone at 603-627-7679 with a credit card; or by mail with a check or credit card.
Saturday, April 13
8:30 p.m. - Hava Nagila
This hilarious and surprisingly deep film follows the infectious party song on its fascinating journey from the shtetls of Eastern Europe to the cul-de-sacs of America. Featuring interviews with Harry Belafonte, Connie Francis, Regina Spektor and more, Hava Nagila (The Movie) uses the song as a springboard to explore Jewish history and identity and to spotlight cross-cultural connections only achieved through music.
Sunday, April 14
2 p.m. - The Disobedience of Sousa Mendez, co-hosted by The Cohen Center for Holocaust Studies.
This powerful film tells the true story of the Portuguese Consul in Bordeaux, who in 1940 defied the direct orders of his government and granted visas out of Occupied France to an estimated 30,000 refugees, including around 10,000 Jews. His courageous actions have been described as "the largest rescue action by a single individual during the Holocaust."
7 p.m. - My Australia
In 1960s Poland, a 10-year-old and his brother fall in with an anti-Semitic gang. When arrested, the boy learns that though raised Catholic, he and his family are in fact Jews. Believing they are going to Australia, land of his fantasies, he boards a ship to Israel with his family. This tender, humorous drama is based on the filmmaker's own experiences.
Nominated Best Israeli Feature Film
"Angel-faced Wroblewski makes Tadek's energy and outrage palpable throughout." – Variety
Saturday and Sunday
This event is part of the Putnam Film event series.
Contact:
Putnam Theatre
603-358-2160
To request accommodations for a disability, please contact the coordinator at least two weeks prior to the event.