Faculty Artist Recital: Jose Lezcano with Guest Soprano Patricia Caicedo
Redfern Arts Center
Sunday, · -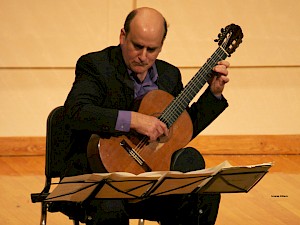 On Sunday, September 24th at 3:00pm, to initiate the 2017-2018 Faculty Artists Series at Keene State College, Dr. José Lezcano, Professor of Music, will perform with special guest Dr. Patricia Caicedo in an evening of music dedicated to Catalan, Brazilian, Spanish, and Cuban composers. The concert will feature works by Ovalle, Tarragó, Falla, and Granados, as well as a piece composed by the two performers. After its world premiere at the Barcelona Festival of Song in 2015, the song cycle "Canciones de Auscenia," with text by Dr. Patricia Caicedo and music by Dr. José Lezcano, will have its United States premiere. Colombian-Spanish soprano, Dr. Patricia Caicedo, is a leading interpreter of the Latin American and Iberian vocal repertory and has sung in the United States and internationally to public and critical acclaim. Singing in multiple foreign and native languages, she draws listeners into the world of beauty, poetry, and warmth that is the Latin American & Spanish Art Song – a world that continues to thrive because of her determination to ensure its future. Described by Fanfare Magazine as "an excellent guitarist as well as an imaginative composer," Dr. José Lezcano is a twice Grammy-nominated composer and guitarist with solo, chamber, and concerto performances at venues and festivals in China, Brazil, Ecuador, Czech Republic, Germany, Peru, Spain, Crete, Colombia, Trinidad, and New York City.
Please join us in the Alumni Recital Hall for this special night! Tickets cost $5 for students and seniors, $10 for adults. Please contact the Redfern Arts Center Box Office for more information: (603)358-2168.
This event is part of the RAC Music Department event series and is open to the public.
Contact:
Redfern Box Office
603-358-2168
To request accommodations for a disability, please contact the coordinator at least two weeks prior to the event.