We Are the Best!
Redfern Arts Center - Redfern Arts Center
Friday, September 19, 2014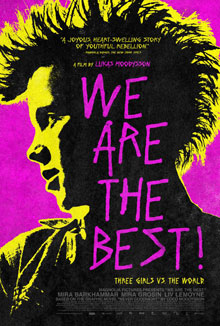 2014, Sweden/Denmark, Directed by Lukas Moodysson, Not Rated, 102 Minutes, in Swedish with English subtitles.
From Swedish auteur Lukas Moodysson, We Are the Best! revolves around three girls in 1980's Stockholm who decide to form a punk band -- despite not having any instruments and being told by everyone that punk is dead. Based on a graphic novel, We Are the Best! is a paean to DIY culture and the power of rebellion. © Magnolia Pictures
September 19 - 24
Friday and Saturday at 7:00 & 9:00 p.m. Saturday & Sunday matinee at 2:00 p.m.
Sunday - Wednesday at 7:00 p.m. only
This event is part of the Putnam Film event series.
Contact:
Putnam Theatre
603-358-2160
To request accommodations for a disability, please contact the coordinator at least two weeks prior to the event.