"College" with Buster Keaton, live Music by Jeff Rapsis
Redfern Arts Center - Putnam Theater
Thursday, September 25, 2014 · 7:00 p.m. - 8:00 p.m.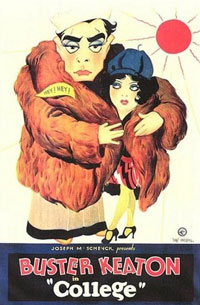 The silent comedy feature College stars Buster Keaton as a scholarly young man who doesn't know beans about sports. When he arrives in college, Buster finds that all the Big Men on Campus are jocks. To impress pretty coed Anne Cornwall, Buster tries and fails to join all the school teams. © www.rottentomatoes.com
Thursday, September 25
7:00 p.m. only
Free & Open to the Public
This event is part of the Putnam Film event series.
Contact:
Putnam Theatre
603-358-2160
To request accommodations for a disability, please contact the coordinator at least two weeks prior to the event.