Frank
Redfern Arts Center - Putnam Theater
Friday, September 12, 2014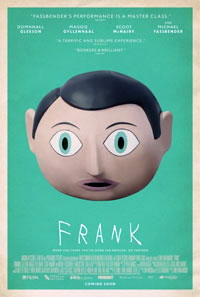 2014, UK / Ireland, Directed by Lenny Abrahamson, Rated R, 95 min.
Acclaimed Irish director Lenny Abrahamson follows up his award-winning films Adam & Paul, Garage, and What Richard Did with an offbeat comedy about a young wannabe musician, Jon (Domhnall Gleeson), who finds himself out of his depth when he joins an avant-garde pop band led by the mysterious and enigmatic Frank (Michael Fassbender), a musical genius who hides himself inside a large fake head, and his terrifying bandmate Clara (Maggie Gyllenhaal). © Magnolia Picttures
September 12 - 17
Friday and Saturday at 7:00 & 9:00 p.m.
Saturday & Sunday matinee at 2:00 p.m.
Sunday - Wednesday at 7:00 p.m. only
This event is part of the Putnam Film event series.
Contact:
Putnam Theatre
603-358-2160
To request accommodations for a disability, please contact the coordinator at least two weeks prior to the event.