Night Moves
Redfern Arts Center - Putnam Theater
Friday, August 29, 2014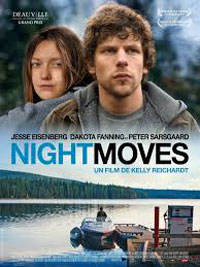 2014, USA, Directed by Kelly Reichardt, Rated R, 112 min.
Kelly Reichardt's suspense thriller follows three passionate environmentalists whose homegrown plot to blow up a controversial dam unravels into a journey of doubt, paranoia and unintended consequences. Starring Jesse Eisenberg, Dakota Fanning and Peter Sarsgaard © imdb.com
August 29 - September 3
Friday and Saturday at 7:00 & 9:15 p.m.
Saturday & Sunday matinee at 2:00 p.m.
Sunday - Wednesday at 7:00 p.m. only
This event is part of the Putnam Film event series.
Contact:
Putnam Theatre
603-358-2160
To request accommodations for a disability, please contact the coordinator at least two weeks prior to the event.