Change Begins Within
Redfern Arts Center - Putnam Theater
Thursday, September 04, 2014 · 7:00 p.m. - 9:00 p.m.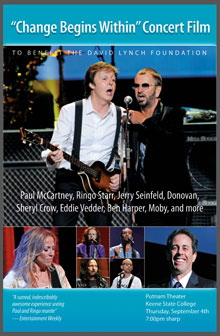 On April 4, Paul McCartney and Ringo Starr reunited onstage in New York City for an exhilarating, star-studded benefit concert, "Change Begins Within," that launched the David Lynch Foundation into an entirely new level of public awareness.
As the headline performers at a sold-out Radio City Music Hall, they helped raise funds for the Foundation's international initiative to teach one million at-risk children to meditate—and to begin to change their world from within.
Many other world-famous musicians—Sheryl Crow, Donovan, Eddie Vedder, Moby, Ben Harper, Paul Horn, Angelo Badalamenti, Betty LaVette, and Jim James—joined the two remaining Beatles to thrill the crowd as well, as did Jerry Seinfeld in a brilliant guest performance. © www.istpp.org
Co-sponsored by the David Lynch Foundation and the New Hampshire, the Monadnock Region Transcendental Meditation Centers and the KSC Film Society.
Thursday, September 4
7:00 p.m. only
Free & Open to the Public
This event is part of the Putnam Film event series.
Contact:
Putnam Theatre
603-358-2160
To request accommodations for a disability, please contact the coordinator at least two weeks prior to the event.