The Wind
Redfern Arts Center - Putnam Theater
Thursday, March 27, 2014 · 7:00 p.m. - 9:00 p.m.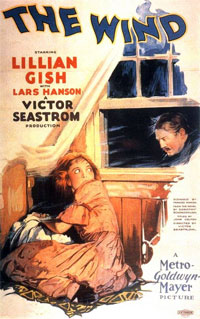 Live piano accompaniment by Jeff Rapsis
USA, 1928, Directed by victor Seastrom, With Lillian Gish, Rated G, silent, DVD
A frail young woman from the East (Lillian Gish) moves in with her cousin and his family in the West only to have the living situation fall apart. She marries out of necessity, and eventually the constant wind and blowing sand begin to slowly driver her mad. © imdb.com
Thursday at 7:00 p.m. only.
Free and open to the public
This event is part of the Putnam Film event series.
Contact:
Putnam Theatre
603-358-2160
To request accommodations for a disability, please contact the coordinator at least two weeks prior to the event.