A Murder of Crows
Redfern Arts Center - Putnam Theater
Thursday, January 30, 2014 · 7:00 p.m. - 8:00 p.m.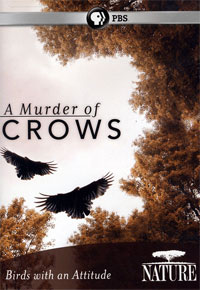 Wherever humans live, crows live too. New research has shown that these common birds are also among the most intelligent animals in the world, able to use tools, recognize and remember particular people, and communicate with other crows via 250 distinct calls.
In this hour-long PBS NATURE documentary, crow experts from around the world sing the praises of this remarkable species and present captivating new footage of crows as you have never seen them before.
Co-sponsored by the Harris Center for Conservation Education, the Monadnock Conservancy, and Keene State College.
For more information, contact Brett Amy Thelen at thelen@harriscenter.org or (603) 358-2065.
Thursday at 7:00 p.m. only
Free and open to the public.
This event is part of the Putnam Film event series.
Contact:
Putnam Theatre
603-358-2160
To request accommodations for a disability, please contact the coordinator at least two weeks prior to the event.