Ordinary Extraordinary Junco: Remarkable Biology From a Backyard Bird
Redfern Arts Center - Putnam Theater
Thursday, November 21, 2013 · 7:00 p.m. - 9:00 p.m.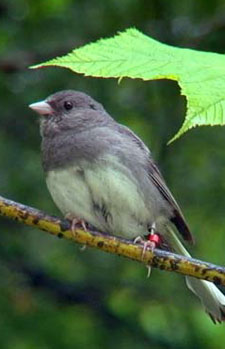 Readily found in backyards and city parks as well as wilder landscapes, Juncos – little, gray songbirds sometimes known as "Snowbirds" – can be easily overlooked. But for scientists who study animal behavior, ecology, and evolutionary biology, the Junco is a rock star.
This visually-stunning, feature-length documentary film brings to life more than 100 years of groundbreaking research in animal behavior, evolution, and ecology featuring one of North America's most abundant groups of songbirds.
Ordinary Extraordinary Junco: Remarkable Biology from a Backyard Bird shows just how much wild bird studies can teach us – from how the body works to how new species form – in an exciting illustration of the fact that absolutely nothing in nature is "ordinary."
For more information, contact Brett Amy Thelen at thelen@harriscenter.org or 358-2065. Co-sponsored by the Harris Center for Conservation Education, the Monadnock Conservancy, and Keene State College Film Society.
Free and open to the public.
Thursday at 7:00 p.m. only
This event is part of the Putnam Film event series.
Contact:
Putnam Theatre
603-358-2160
To request accommodations for a disability, please contact the coordinator at least two weeks prior to the event.