Vic + Flo Saw a Bear
Redfern Arts Center - Putnam Theater
Friday, November 08, 2013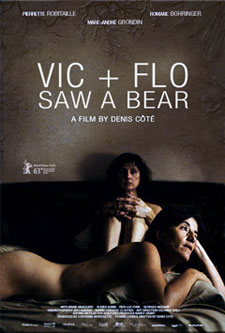 2013, Quebec, Canada, Directed by Denis Cote, Not Rated, 89 minutes, Blu-Ray.
Victoria just got out on parole, tasting freedom for the first time in years. Florence has done her time, and reconnects with her lover from prison. They hole up in a sugar shack out in the woods, relearning life on the outside.
Guillaume is Vic's parole officer. As he watches over the women's reintegration, their different ambitions and personalities pull them farther and farther apart. When the past catches up with them, their freedom is profoundly jeopardized. © kimstim.com
Friday and Saturday at 7:00 & 9:00 p.m.
Sunday - Wednesday at 7:00 p.m. only
Saturday & Sunday matinee at 2:00 p.m.
This event is part of the Putnam Film event series.
Contact:
Putnam Theatre
603-358-2160
To request accommodations for a disability, please contact the coordinator at least two weeks prior to the event.