Andre Gregory: Before and After Dinner
Redfern Arts Center - Putnam Theater
Friday, September 13, 2013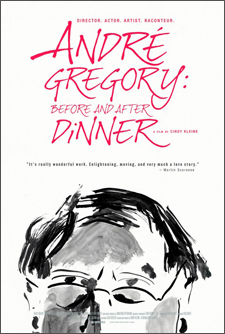 2013, USA, Directed by Cindy Kleine, Not Rated, 108 minutes, Blu-Ray.
Andre Gregory: Before and After Dinner is a wonderful exploration of the life and work of groundbreaking director, actor and artist André Gregory.
A witty and often hilariously funny raconteur, Gregory looks back on a career that spanned decades, shattered boundaries and established him as a cultural icon.
He recalls the making of My Dinner With Andre, the Louis Malle-directed classic in which he starred and co-wrote, reflects on his pivotal role in American theatre, dishes on his brief sojourn in Hollywood, and talks about the discovery that led him to question his own identity and life's work.
Bringing us back and forth in time, Gregory looks not only at his life, but at the nature of art, love and the creative process. Directed by award-winning filmmaker Cindy Kleine (who is also his wife), Andre Gregory: Before and After Dinner is a brilliant portrait of a modern renaissance man. © Cinema Guild
Friday and Saturday at 7:00 & 9:00 pm; Sunday through Thursday at 7:00 pm only; Saturday & Sunday matinee at 2:00 pm
This event is part of the Putnam Film event series.
Contact:
Putnam Theatre
603-358-2160
To request accommodations for a disability, please contact the coordinator at least two weeks prior to the event.