My Dinner With Andre
Redfern Arts Center - Putnam Theater
Friday, September 06, 2013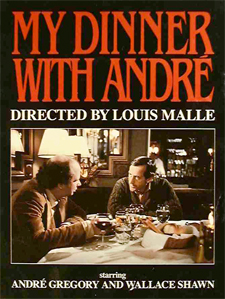 1981, USA, Directed by Louis Malle, Rated PG, 110 minutes, DVD.
The KSC Film Society is proud to present Louis Malle's 1981 classic film, My Dinner With Andre.
Wallace Shawn and Andre Gregory - apparently playing themselves - share their lives over the course of an evening meal at a restaurant.
Gregory, a theater director from New York, is the more talkative of the pair. He relates to Shawn his tales of dropping out, traveling around the world, and experiencing the variety of ways people live (for example, a monk who could balance his entire weight on his fingertips).
Shawn listens attentively, but questions the value of Gregory's seeming abandonment of the practiclce aspects of life. © imdb.com
Friday and Saturday at 7:00 & 9:15 pm; Sunday through Thursday at 7:00 pm only; Saturday & Sunday matinee at 2:00 pm
This event is part of the Putnam Film event series.
Contact:
Putnam Theatre
603-358-2160
To request accommodations for a disability, please contact the coordinator at least two weeks prior to the event.