An Evening of Dance
Redfern Arts Center
Wednesday, -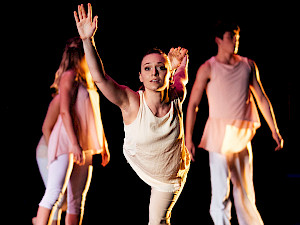 Performances on:
Wednesday, April 15 at 7:30pm
Thursday, April 16 at 7:30pm
Friday, April 17 at 7:30pm
Saturday, April 18 at 2:00pm
Saturday, April 18 at 7:30pm
A spring tradition celebrating its 45th season, An Evening of Dance presents original choreographed works by students, faculty, and guest artists that reinvent dance through an inspiring breadth of contemporary perspectives. An Evening of Dance 2020 includes premieres by KSC faculty Cynthia McLaughlin and Molly Fletcher Lynch and featuring guest artist Boris Willis, along with performances by Keene State students.
This event is part of the RAC Theatre Department calendar and is open to the public.
Contact:
Redfern Box Office
603-358-2168
To request accommodations for a disability, please contact the coordinator at least two weeks prior to the event.