Adjust Your Tracking
Redfern Arts Center - Putnam Theater
Friday, April 12, 2013 · 7:00 p.m. - 9:00 p.m.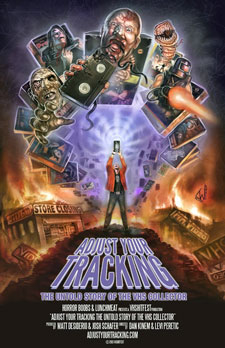 2013, USA, directed by Dan M. Kinem and Levi Peretic. Not Rated. 84 minutes, possibly on vhs!
Adjust Your Tracking is a feature-length documentary film directed by Levi "Dabeedo" Peretic and Dan Kinem. It's a passion project made by true lovers of the format hoping to capture why VHS holds such a special place in so many different people's hearts. The film features interviews with VHS collectors, video store owners, filmmakers, and distributors. Written by Dan Kinem ©imbd.com
7:00 p.m. only. Free and open to the public.
This event is part of the Putnam Film event series.
Contact:
Putnam Theatre
603-358-2160
To request accommodations for a disability, please contact the coordinator at least two weeks prior to the event.