Wake in Fright
Redfern Arts Center - Putnam Theater
Friday, April 26, 2013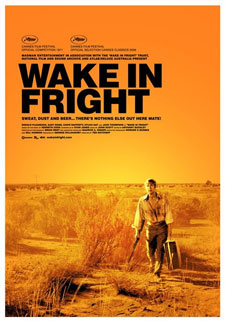 1971, Australia, Directed by Ted Kotcheff, Rated R, 114 minutes, 35mm print.
Awe-inspiring, brutal and stunning, Wake in Fright is the story of John Grant, a bonded teacher who arrives in the rough outback mining town of Bundanyabba, planning to stay overnight before catching the plane to Sydney.
But, as his one night stretches to five, he plunges headlong toward his own destruction. When the alcohol-induced mist lifts, the educated John Grant is no more. Instead there is a self-loathing man in a desolate wasteland, dirty, red-eyed, sitting against a tree and looking at a rifle with one bullet left.
Believed lost for many years, Wake in Fright has been painstakingly restored by Australia's National Film and Sound Archive and AtLab Deluxe, and is presented in its original uncompromising form. © Drafthouse Films
Friday and Saturday at 7:00 & 9:15 p.m.. Sunday through Thursday at 7:00 p.m. only. Saturday and Sunday matinee at 2:00.
This event is part of the Putnam Film event series.
Contact:
Putnam Theatre
603-358-2160
To request accommodations for a disability, please contact the coordinator at least two weeks prior to the event.